St. Luke's Treasure Valley earns fifth 'very prestigious' Magnet designation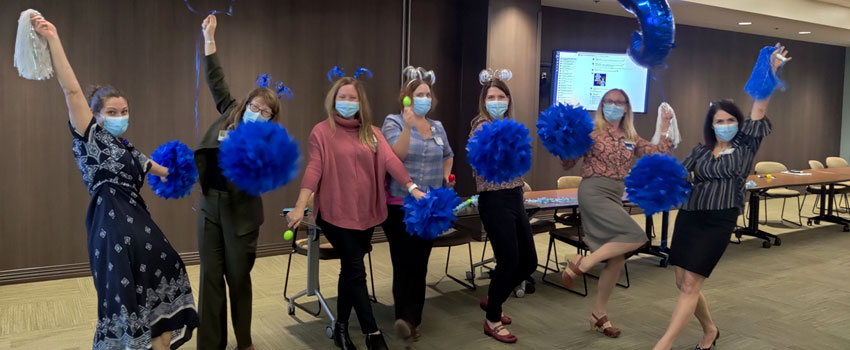 The Meridian hospital team celebrates the Magnet recognition.
By Dave Southorn, News and Community
There was a lot to celebrate Tuesday, and even behind masks or remotely on a webcam, the elation was clear.
St. Luke's Treasure Valley, which includes the Boise and Meridian hospitals and local ambulatory clinics, received the Magnet designation from the American Nurses Credentialing Center – for the fifth time.
The Magnet program recognizes organizations worldwide for nursing excellence; fewer than 25 hospitals in the United States have earned the honor five or more times.
And for the hundreds of nurses whose efforts have put the organization on the Magnet map – and kept it there for nearly two decades – the call with the announcement came as validation of great work, done and still to be done.
"Five continues to show we're moving forward, because if we were stagnant, we wouldn't get it multiple times in a row," said Ashley Wadsworth, a St. Luke's registered nurse that served as an ambassador during the assessment process.
"Health care is constantly changing," she said. "You have to roll with the punches, especially this year. I couldn't be more proud of the care we deliver."
Special recognition was given by the Magnet committee to the St. Luke's home care hospice team.
Magnet recognition is valid for four years and appraisers historically have made on-site visits to evaluate nursing programs that score well enough for consideration. Due to the COVID-19 pandemic this year, St. Luke's and other potential designees got creative.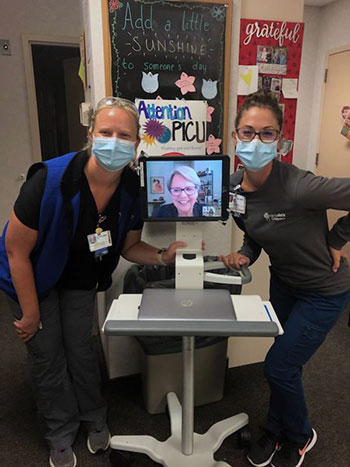 The appraiser visit, originally set for June, was delayed to mid-August so that plans could be developed for a virtual visit, and the level of technology used to facilitate that online assessment impressed appraisers. Even through a screen, it was clear St. Luke's provides top-notch nursing care.
Along with Wadsworth, Rhe Perdue and Laura Bulmahn were clinical RN ambassadors who arranged interviews and more through tablets set up on mobile WiFi-enabled carts – a crafty innovation from St. Luke's Integrated Health Technologies team.
"IHT was a huge part of the success of it," said Robyn Beall, St. Luke's Magnet program director. "They were so heavily invested in it, they made it happen."
The approach was successful in many ways, Beall said.
"It also enabled us to show them far more than we usually would have – including 15 clinics – when that time usually would've been spent driving around."
And team members not familiar with the technology were brought up to speed, helping the visits go without a hitch.
"We were fortunate with the lead time to be able to practice – Robyn and I did 20-plus practice sessions with them," said Kristin Moore, project manager for St. Luke's Center for Nursing Excellence.
"Some of our clinical staff picked it right up. We're very fortunate to have great staff."
Wadsworth works in the float pool, helping out in a multitude of areas. She gained a greater appreciation for the job as she moved among different locations to connect Magnet representatives with the St. Luke's team. More than 600 clinical nurses, leaders and other team members were interviewed.
"Multiple meetings every day isn't usually my thing, but in my job, I see a ton of different things, so it was great seeing more of what we're doing as an organization as a whole," Wadsworth said. "I'm always proud, but after that, it was like, 'We are freaking sweet.'"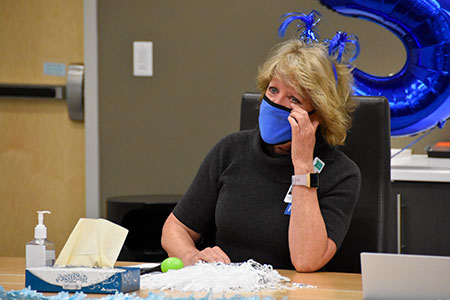 Cy Gearhard wipes a tear after receiving word of St. Luke's receiving its fifth Magnet designation.
St. Luke's received its first Magnet designation in 2001. This fifth designation marks an unbroken streak of nearly 20 years. St. Luke's Vice President of Patient Care Services/Chief Nursing Officer Cy Gearhard has been part of all of them and wanted to make sure she helped with the fifth, which will be her last.
Gearhard, who joined St. Luke's as a nurse in 1979 before getting her master's degree and returning, will retire in early 2021. She initially planned to retire in mid-2020, but the pandemic, and a desire to see through a fifth Magnet designation, kept her working a bit longer.
"She wanted to make sure we were in good shape, and this is very prestigious, just a real feather in the cap. She has been a transformational leader," Beall said.
St. Luke's President and CEO Chris Roth added, "What a way to go out on top. It's like throwing the game-winning touchdown, walking off the field and going to Disneyland."
Wadsworth joined St. Luke's after graduation in 2014, just before the fourth Magnet designation. She jokes that it isn't always a job that earns a lot of recognition, so she accepts thank yous in the form of chocolate.
Today's fifth Magnet designation is even better – and has a longer impact.
"I came to St. Luke's because it was a Magnet organization. I wanted to come to one that took care of its nurses," Wadsworth said.
"Pretty quickly, you see how much pride we have in taking care of our patients, too, and that makes it a great place to work."