A nurse's top priority is taking care of patients.
Sometimes, that turns out to be another nurse.
Lunch started out typically enough at St. Luke's Meridian Medical Center's urology clinic on a late-October day, a handful of nurses chatting and eating, refueling for the afternoon.
Tami Larsen, a licensed practical nurse, was enjoying herbed salmon from the cafeteria – before she started to choke.
"She, all of a sudden, went quiet, and then her face started to turn purple, her lips went blue," said Klista Hameed, a registered nurse.
Sitting behind Larsen was Rachelle Marema, also a registered nurse. Marema first met Larsen about a year earlier when she started working with Dr. Michael Taylor. Larsen, she said, was her first friend in the new work environment.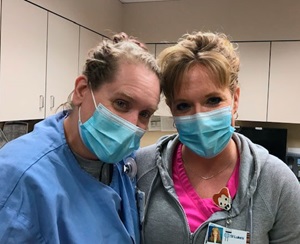 Instinctively, Marema jumped up and started to perform abdominal thrusts, known as the Heimlich maneuver.
"It was the first time ever doing it," Marema said.
"I learned how to do it when I was in elementary school, and it's of course something you learn as a nurse, but I'd never even seen it done."
One thrust -- nothing.
Same with the second.
After a third, the nurses started to become concerned and prepared to call for help.
"I started to think, 'This is it, I'm going to pass out,'" Larsen recalled.
Not so fast.
"I wasn't going to give up," Marema said.
On the fifth attempt, the food was dislodged and Larsen sank back into her chair.
"I just started bawling," she said.
So did Marema.
"She said, 'You saved my life,' and that was a lot to take in, so I just cried with her for a few minutes," Marema said.
"I was hell-bent on getting it out. It felt like time slowed down, and instincts took over."
Immediately, Larsen started thinking of how she could properly thank her friend and co-worker.
"What do you say to someone after that?" Larsen said.
"It took me a little while to process it. I joked that I was just going to call her at like 2 a.m., sobbing.
"If I was alone," Larsen continued, "who knows what would've happened?"