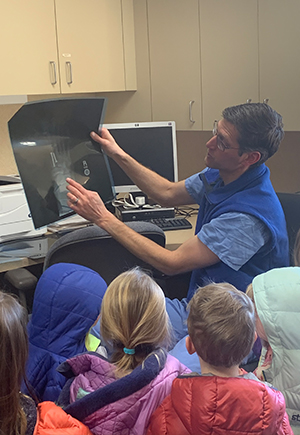 Before coming to visit the St. Luke's Wood River Medical Center, preschool students from the Presbyterian Church of the Big Wood learned about basic anatomy.
When they arrived at the hospital last month, they were thrilled to look at real MRI images of the brain and major limbs. The students and their preschool teacher visited X-ray rooms and viewed images of broken bones and bones with nails and screws.
"The kids were very excited to study X-rays and see all the machines that help see inside the human body," MRI technologist Ryan Schmidt said. "As an imaging technologist, it's a joy to see the look of wonder on these little kids' faces when they learn new information."
Many of the children were born at St. Luke's Wood River and several of them have family members who work at the hospital, making a visit to the hospital a bit less intimidating.
"Several of the little kids were already dreaming of working in the health care field 20 years from now," Schmidt said. "The future of health care came to visit the St. Luke's Wood River Medical Center and it was a joy to show them around."