Lack of adequate transportation can be a major barrier that prevents people from accessing health care resources. The issue is so severe in Idaho that it's among the most significant issues identified in St. Luke's Health System's 2019 Community Health Needs Assessments.
To help address the challenge in the Treasure Valley, St. Luke's recently donated a 25-passenger shuttle bus to Southwest District Health. The shuttle, a low-mileage 2003 Ford E-450 Super Duty, will be used to help transport people in rural communities between their homes and public services locations.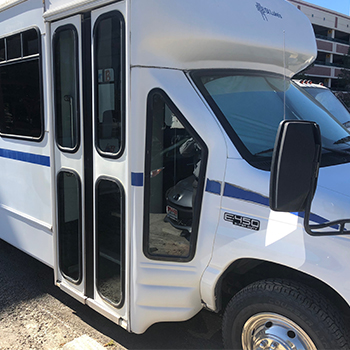 In late February, members of the St. Luke's Western Treasure Valley Community Board and the Southwest District Health board gathered at St. Luke's Nampa Medical Center for a brief ceremony.
"Our mission is to improve the health of the people in the communities we serve," said St. Luke's President and CEO Chris Roth. "Part of improving health is making sure we have the right partnerships and connections in communities to help people get to the care they need. We are so grateful for the partnership we have with Southwest District Health and many others."
Along with Roth, Nampa Chief Operating Officer/CNO Joan Agee handed over the keys—and title—to Southwest District Health Director Nikki Zogg.
"We're very excited to be receiving the shuttle," Zogg said. "With this new resource, we plan to expand our reach and reduce barriers to accessing public health services, particularly in the rural and frontier communities of our six-county district."
Zogg noted that many community health assessments in recent years have highlighted transportation as a significant issue.
"We hope to use this resource to help people who are coming to the Western Idaho Community Crisis Center that was established last year in Caldwell," Zogg said. "It serves our region, and often we have people who are coming in for mental-health and substance-use resources and don't have adequate transportation home."
"We are very grateful for the partnership we have with St. Luke's," Zogg said.