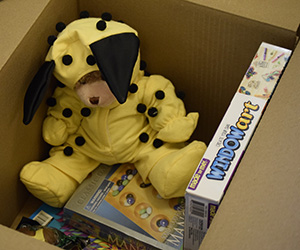 St. Luke's Children's "Very Merry Unbirthday" party included some very special virtual guests from Zoo Boise.
With the help of technology, patients at Idaho's only Children's Hospital got to watch the penguins during their daily feeding over a Zoom call with zookeepers. The hospital is closed to visitors due to the COVID-19 pandemic, so St. Luke's and Zoo Boise teamed up to make this day special for the kids, while still keeping them safe.
In addition to the penguin virtual visit, each child in the hospital received an "Unbirthday" present. The boxes were filled with toys, puzzles, books, coloring books and crayons, crafts and more all donated by supporters in the community.
The highlight inside each "Unbirthday" box was a one-of-a-kind Miracle Bear. The bears are sold as a fundraiser during St. Luke's signature Kid for a Night FUNdraiser event in June, which had to go virtual this year. Each of the Miracle Bears costumes were handmade to match the theme, "A Space Safe Odyssey." People purchase them, then most donate them back to be delivered to children in the hospital.
Today the kids were surprised with bears dressed as astronauts, Star Wars characters and more. Kid for a Night volunteers typically hand-deliver the Miracle Bears, but to protect the health of the vulnerable children, St. Luke's opted to put the bears inside each "Unbirthday" boxes handed out by staff.
With the help of the Miracle Bears, St. Luke's Children's Kid for a Night has helped to raise more than $9 million to provide care and services for pediatric patients since the event started in the early 1990s.