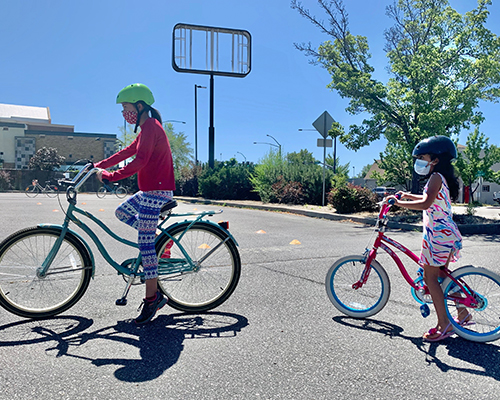 The Boise Bicycle Project thrives on engaging community members. When the BBP team isn't donating bikes to kids in need or teaching safety lessons, their mechanics are helping people fix their rides in their shop near Ann Morrison Park.
The COVID-19 pandemic threw a wrench – pun intended – into the nonprofit organization's work. Drastically reducing shop operations, they've had to adapt.
"In mid-March, we asked, 'How do we make the biggest impact we can?' We might have all the resources we need, but we don't have the ability to connect with the people we served in the past," said Emily Summerhays, the organization's development director.
Their answer? 'Adaptive bike giveaways' for kids. In the past, kids would visit the shop to receive their donated bike and important safety lessons.
"We have been going to them, working with school counselors and other nonprofit organizations to identify families and meet them where they are," Summerhays said.
After conducting modified giveaways recently, the BBP team held its first bike giveaway in person on July 11. Masked and physically distant, a small group of kids received free bikes, lights, locks and helmets, before navigating a safety training course.
It's been the highlight of the year for Summerhays and the staff, including executive director Jimmy Hallyburton.
"We are doing really well in this weird time," Summerhays said. "We really had to adapt with how we could deliver our programming safely, especially considering that are doors are not really open to the public right now."
Over the past two years, St. Luke's Health System has awarded Boise Bicycle Project Community Health Improvement Fund grants to ramp up its efforts to get children on bikes. The organization also sells adult-sized bikes that have been donated and uses the funds to cover programming costs.
"We effectively had to close our bike shop and our member services … that earned income piece covers so much of what we do across the board. Having grant funding is one of the only ways we are able to still continue to impact the community and get bikes to kids," Summerhays said.
The partnership aligns with St. Luke's 2019 Community Health Needs Assessments, which identified obesity and diabetes as two of the most significant health issues faced by local communities. Getting kids healthy and active is an important way to address childhood obesity.
Boise Bicycle Project has seen bike riding gain popularity during the pandemic.
"The country is in what we would call a 'bike boom.' Peoples' need for physical activity and projects that bring them joy and passion is on the rise, and bike riding is a huge part of that," Summerhays said.