Luke Award honors those devoted to fundraising for St. Luke's Children's Hospital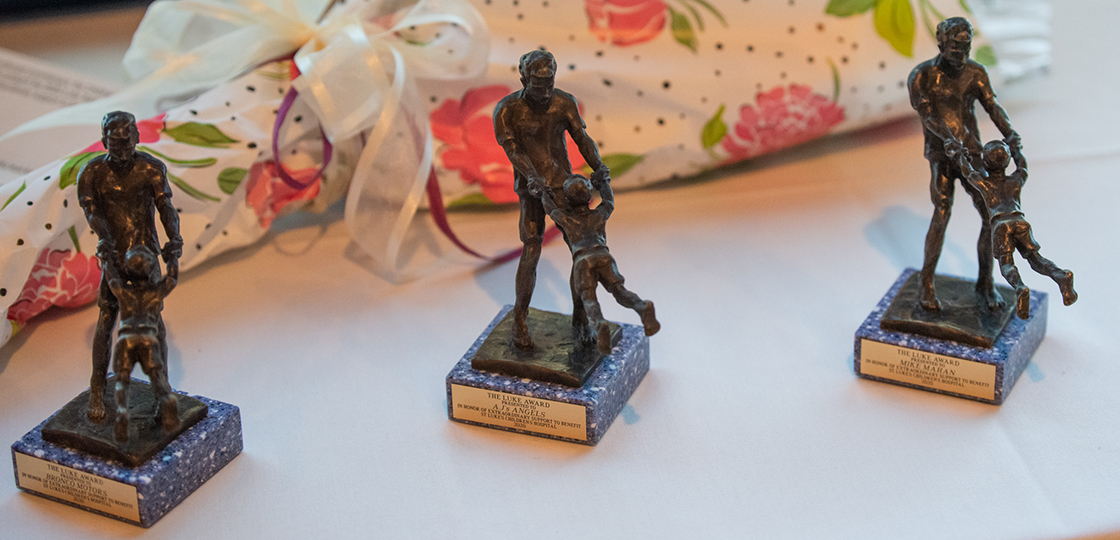 By Randall Post, News and Community
A civic leader committed to helping the kids of St. Luke's by doing whatever he can, a car dealership that puts hope on wheels for children with cancer and a nonprofit dedicated to providing services that bring encouragement during times of treatment and recovery for pediatric cancer patients and their families.
Mike Mahan, Bronco Motors and AJ's Angels have been selected to receive the 2020 Luke Award. The Luke Award honors individuals and organizations demonstrating extraordinary commitment to fundraising efforts for St. Luke's Children's Hospital.
"We are immensely grateful to our corporate and community partners and volunteers for the support they provide to St. Luke's Children's," said Maegan Krahn, director of special events and CMN Hospitals at St. Luke's Health Foundation. "Their drive, passion, and hard work impact countless patients and families."
The 19th annual Luke Award Ceremony took place on Jan. 30 at St. Luke's Anderson Center in Boise.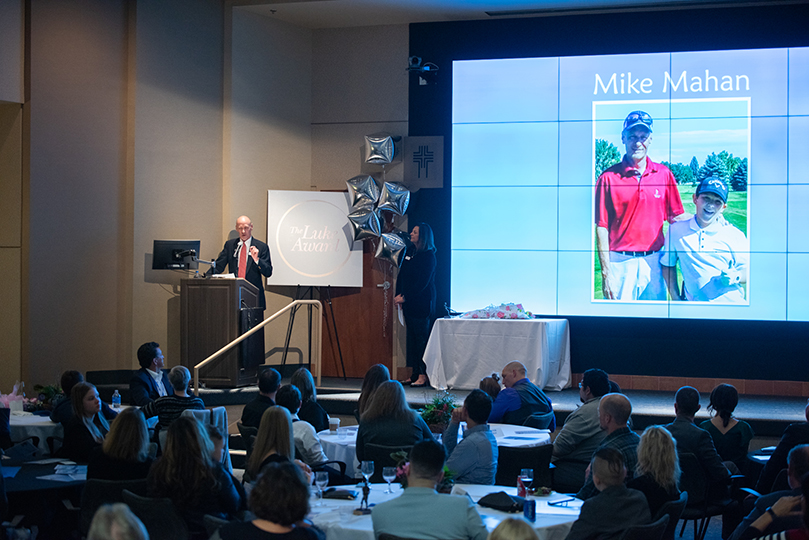 Mike Mahan
Mike Mahan is a civic leader dedicated to family, philanthropy and community. Mahan doesn't have a formal charitable giving philosophy. Rather, he likes to say he's committed to helping the kids of St. Luke's by doing whatever he can, and that's exactly what he's done. Since joining the Children's Advisory Board in 2007, Mahan has served on the board's Executive Committee and multiple subcommittees.
Mahan's former company, Blueprints Plus, was recognized with the Luke Award in 2002. A few years later, the company was purchased by ARC Document Solutions, and ever since, Mahan has generously donated the printing of thousands of items for St. Luke's Children's and Children's Miracle Network Hospitals programs and events. Additionally, ARC was a sponsor of Kid For A Night for 10 years and has donated more than $40,000 to St. Luke's Children's.
"In October 2011, our family needed help figuring out what was going on with our grandson Cooper, and we were less than 48 hours from packing up the car to go to Salt Lake or Portland to figure out what's going on," said Mahan. "In desperation, I reached out to the Foundation and we started to get some answers. I will forever be in debt to St. Luke's Children's Hospital. It's a fine, fine place to have a child who is sick."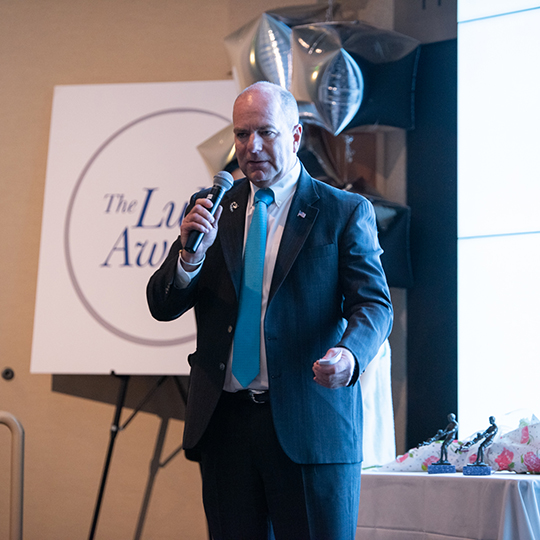 Grant Petersen Jr.
Bronco Motors
Bronco Motors has been a Treasure Valley community pillar since 1971. President and CEO Grant L. Petersen Jr. and his staff are committed to quality, value, integrity and trust in all they do.
Hyundai and its U.S. dealers created Hyundai Hope On Wheels in 1998. From the sale of every new vehicle, a donation is made to fight cancer. To date, more than $160 million and over 800 research grants have gone to support research at children's hospitals across the nation.
Locally Hyundai Hope On Wheels has donated $310,000 in Scholar Grant funding locally to St. Luke's Children's Cancer Institute, formerly MSTI Pediatrics, since 2010. These funds have been used for music therapy, equipping the medical playroom, pediatric neuro-oncology, physical therapy, education programs and research.
Petersen Jr. remarked: "I noticed the Austins and UCLAs and all these big research schools got all this [research] money, and I said, 'What about Boise? We deserve some of that money.' So through perseverance I convinced them that St. Luke's and pediatric cancer research in Boise, Idaho were beneficial to the (Hyundai Hope On Wheels) program. And $310,000 later, here we are."


AJ's Angels
AJ's Angels Pediatric Cancer Foundation was established in 2001 in memory of Adam and Beth Engroff's son, AJ, and his battle with a pediatric brain tumor. AJ's Angels is dedicated to raising funds to provide support for pediatric cancer patients and their families. Its mission is to create comfort, support and joy by providing services and surroundings that bring encouragement and hope during times of treatment and recovery.
AJ's Angels regularly hosts give-back nights with local partners and celebrates AJ's memory at an annual golf tournament in June. Funds the foundation raises benefit causes like "Just Like You Films," a video series for kids with cancer going back to school, laptops for Children's Mercy in Kansas City, the remodel and upkeep of a playroom and a new flat screen TV in the emergency room waiting area at Miami Children's Hospital, and incredibly generous donations to St. Luke's Children's for play spaces in both the pediatric preoperative surgical area and St. Luke's Children's Cancer Institute.
"There's one exclusive club you never want to join: a parent who's lost a child. There's no pain that can ever match that feeling. AJ would be almost 21 years old today and I think about him all the time. I hope we're making him proud. Even though he's not here with us, I hope he knows how many families and kids he's touched," said an emotional Adam Engroff. "My dad taught me how to be a man, but AJ made me one." He left the stage to an enthusiastic standing ovation.
Luke Award Distinguished Recipients
2014: Todd and Pam Gabriel, Jayden DeLuca Foundation
2013: Andy and Shannon Erstad, Moffatt Thomas
2010: Susie Molenaar Butterfield, Idaho Credit Union League
2009: Kathy Patrick and Children's Archery Challenge
2008: Shirley Osborn and Norco Medical
2007: Dixie Dykman, KIVI Today's Channel 6
2006: Mike and Lisa Simplot, Boise Courtyard by Marriott
2005: David Bishop, J.R. Simplot Company
2004: Charles and Carolyn Leader, Albertsons
2003: Celeste Keller, Dairy Queen
2002: Gwen Lytle, Blueprints Plus
2001: Sherry Iverson, St. Luke's Auxiliary
2000: Dawneen Blakeslee, Wells Fargo