At the St. Luke's Magic Valley building services shop, Doug DeRuiter and Ray Lott are cutting wood for a project. As carpenters for St. Luke's, they work on anything and everything from cabinets to counter tops.
"It's fun," DeRuiter said. "We never know what we are going to do. And that's what we love about this job. It's never the same thing."
Both worked in carpentry and construction before joining St. Luke's. DeRuiter has been at St. Luke's for 15 years and Lott for 14 years. That expertise allows them to work on virtually anything a hospital might need in the way of storage and counter space.
Their shop has plenty of equipment which allows them to build just about everything.
"We love this shop," DeRuiter said. "We have two table saws that are back-to-back because we cut so much material. We have an edge bander. We have a boarding machine. We have a panel saw. We have a chop saw.
"We have every tool that is needed for us to do our job. We have been lucky to get everything we need to build and for it to look good."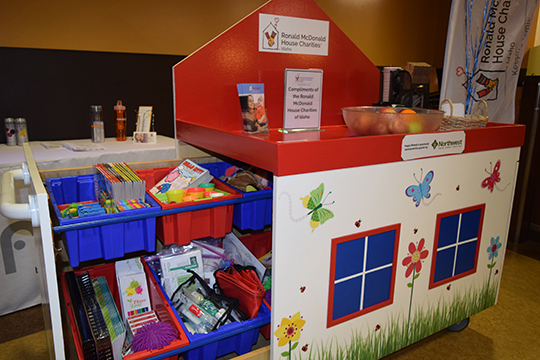 Within St. Luke's Magic Valley, their responsibilities include the main hospital, medical plaza two, the surgery center and all off-site clinic locations. They build all of the cabinets and countertops in-house.
St. Luke's also employs three carpenters in Boise.
Here's how it all comes together for DeRuiter and Lott: A work order is put in and upon approval, DeRuiter and Lott visit the location to determine what the project will need. They design a plan, put together a cut list, cut the pieces, assemble and install the unit. And while the main colors of cabinets and countertops are consistent throughout the hospital, each project is different, so the amount of time on the job is always different.
"I have a job in the basement that has to house six people," said DeRuiter. "I have to build cabinets, countertops, upper cabinets. I have so much to build. That one, I'll be on for quite a while.
"We can do a base cabinet, which is our hardest to do, in about three hours and an upper in about two hours," Lott said. "We have done as many as 30 for one job and that was like a two-month process."
Among their favorite projects has been the Happy Wheels hospitality cart. The cart is a Ronald McDonald House Charities of Idaho program that brings comfort and support to families in pediatric areas of the hospital.
The cart was designed and built by DeRuiter and Lott.
"It's pretty pride-full. Ray and I see it out and we are like – man, we built that," DeRuiter said. "We took a lot of time on it and did it right. We are pretty proud of that cart."
"We were doing that about two weeks," Lott said. "We had to change the design and make some serious modifications in that one. I have seen kids coming up to it and they are excited about seeing it.
"It's a good satisfaction. You make something that makes people very happy."
Both of them enjoy getting to know the people behind the requests and making the projects their own.
"I love to do the finish touch on things," DeRuiter said. "Ray and I both love to build, but the finish processes are what I love the most. We get to meet so many new faces here.
"It's the finished touch. It's the gratitude, or 'Man, this is a great job, thank you guys,' that's the stuff that Ray and I like to hear."