Over the past two years, the Ronald McDonald House Charities of Idaho had to turn away more than 250 families seeking a place to stay while their children received medical care. There weren't enough rooms in the organization's historic house near Warm Springs Avenue and 1st Street in Boise.
"Last year, we turned away 171 families because we didn't have room. The year before, it was over 80 families," said executive director Mindy Plumlee. "We have known for some time that the demand would far surpass our ability to meet the needs."
Plumlee, her staff, board of directors, donors and a motivated construction team have worked tirelessly over the past 12 months to open a new, 47-room Idaho Ronald McDonald House adjacent to its former facility. The organization held a grand opening at the beginning of February and moved in families two days later.
"We have tripled our capacity," Plumlee said.
The new facility includes guest rooms, kitchens to help families cook meals and even a secret toy room, hidden behind a bookcase.
Many of the families that stay with the Ronald McDonald House have kids who receive care at the nearby St. Luke's Children's Hospital and the new Idaho Elks Children's Pavilion.
"Because of the Children's Hospital, about 90 percent of the families that stay with us have children receiving care just right across the street," Plumlee said.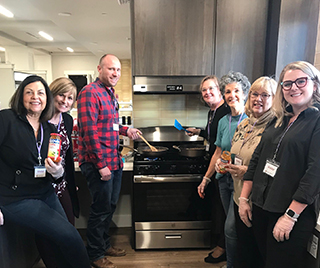 Meeting the need
Plumlee and Ronald McDonald House leaders started planning a new facility several years ago, conducting an extensive medical feasibility study that used census and patient data, as well as projections for new pediatric services in the region.
The Children's Pavilion opened in September 2019 and had more than 18,000 patient visits in the first four months, Children's administrator Katie Apple said.
"Our growth is dictated by the medical need," Plumlee said. "A lot of the strategic work that the hospitals have done has been instrumental for our ability to pull things together for a feasibility study to understand the medical need around that."
The new facility is built on land previously owned by St. Luke's. St. Luke's acquired the old Ronald McDonald House and plans to house families with adult patients.
"Fortunately, we were able to find a scenario that is a win-win for both of us," Plumlee said. "Ideally, for the hospital, it's nearly turnkey. It's the ideal space compared to some previous spaces like the Bishop Foote Guest House."
Lending support
St. Luke's Vice President of Population Health Dave McFadyen has been a strong supporter of the Ronald McDonald House and its vision to increase the number of families it could serve.
"Sometimes making new things happen takes someone to recognize this could be better if we just brought these people together," Plumlee said. "Dave has been a great catalyst for making that happen. He has done a phenomenal job of listening to our needs and helping us to connect with various departments at St. Luke's."
St. Luke's President and CEO Chris Roth, along with Dr. Scott Snyder, St. Luke's Children's neonatologist and Ronald McDonald House board member, also played instrumental roles in bringing the new facility to life, Plumlee shared.
"Once we were able to say, 'This could be our shared vision. This is what we are wanting and what we are needing,' and getting the right people in the room to make it happen is what it took," she added.
With a shared vision for caring for sick kids and their families, a variety of departments at St. Luke's have found ways to support the Ronald McDonald House. The St. Luke's Children's Advisory board volunteered this month to cook meals for families.
"We are fortunate to have such a great partnership with Mindy and the Ronald McDonald House team," McFadyen said. "Their support for families with children receiving medical care is invaluable. We are thrilled to share a vision for supporting families with the care they need, where they need it."
'Share A Night'
When families stay at the Ronald McDonald House, the organization requests a $10 per night donation. However, it is not required.
"Financial criteria isn't a need for us because we fully recognize the financial situation of their child's illness. Day one, day 60, day 200 can all be very different, and we never want to have financial need be a barrier for families," Plumlee said.
For several years, St. Luke's has provided Community Health Improvement Fund grants to the organization's 'Share A Night' program, which offsets the lodging costs for families. About 80 percent of families pay nothing to stay at the facility.
"The ability to lift so many of those worries and concerns for families, it's really difficult to measure what that means to someone," Plumlee said. "The 'Share A Night' program is one of the most impactful we have for families."