Giving and timing are the themes of St. Luke's anesthesiologist medical mission to Haiti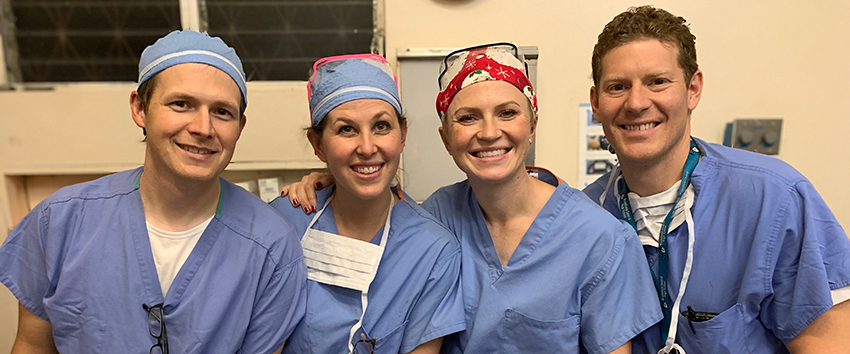 Left to right: St. Luke's CRNA Nelson Pettey, Katie Pettey, RN Heidi Herd and St. Luke's anesthesiologist Richard "Scott" Herd.
By Alexis Bennett, News and Community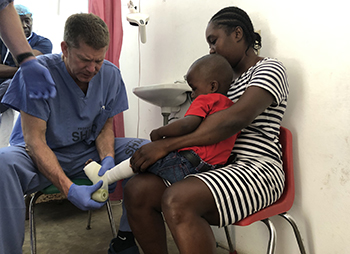 In December, Dr. Richard "Scott" Herd, St. Luke's pediatric anesthesiologist and his wife, a nurse, along with a team of 15 medical professionals and volunteers performed more than 50 surgeries at Hôpital Bon Samartain (Good Samaritan Hospital) during their weeklong mission to Limbe, Haiti.
A few weeks before the scheduled trip, Dr. Herd realized the team was short on supplies.
He reached out to St. Luke's pharmacy and lab departments that then donated more than $1,000 in anesthesia and $200 in medical supplies.
"I never know what I need until a few weeks before the trip," Dr. Herd said. "We actually needed quite a bit. I'm really appreciative to St. Luke's and the teams for stepping up on short notice."
Good Samaritan Hospital is the only local hospital and operates primarily on donations. Because expenses are covered almost exclusively by international donors, the hospital is able to charge patients only nominal fees.
"The hospital has some doctors," Dr. Herd said. "They're essentially first-year medical students and there's an OBGYN on staff."
Dr. Herd's team is one of 10 international surgical teams that travel to the region each year, rotating to meet specialty need.
Along with resetting breaks, implanting pins and other orthopedic surgeries, their team also does general surgeries, such as repairing hernias and removing growths.
The procedures are often long overdue.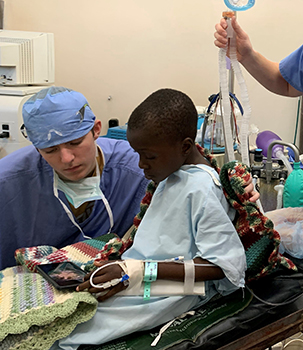 "One year, we treated a farmer who had broken his humerus," Dr. Herd said. "He had it in a sling for about nine months. He was doing what he could with one arm. A lot of times these people are depended on for their livelihood, so these injuries are devastating."
This year, the team was fortunate enough to be in the right place at the right time to help immediately.
"On the last day, we were going to relax and do a hike during the day," he said. "At about 9:30, someone from the emergency room rushed over to grab our team and said, 'We just had a dozen people show up.'"
A transport truck had crashed, killing six and injuring the other passengers, including a woman with a compound leg fracture.
"She was hypotensive and lost a lot of blood," Dr. Herd said. "It was hard keeping her stable, but we were able to get a plate placed alongside her femur bone."
Had the team not been there, she may not have survived, and Dr. Herd said it was unlikely she could've endured the three-hour drive to the nearest surgical center.
Along with the medical support, Dr. Herd's team brought gifts to be shared on the last day of the trip. The hospital has an on-site orphanage, and because of the season, the team throws a Christmas party for the kids every year that includes presents and caroling.