St. Luke's Respite House in Fruitland opens for cancer care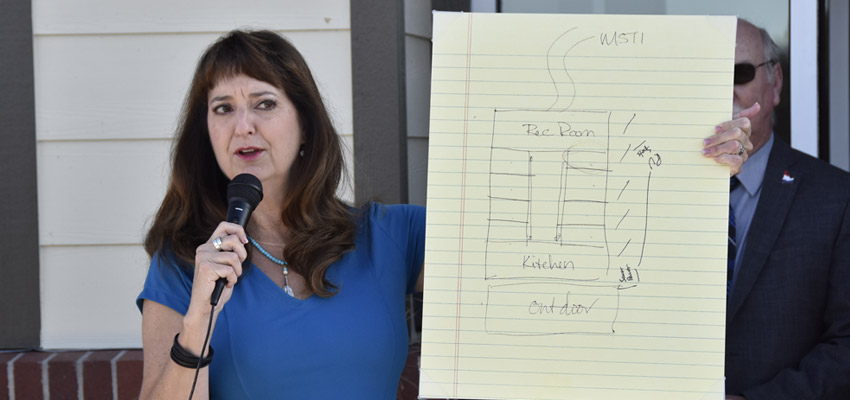 Dr. Sarah Bolender shows off her original respite house blueprint at the grand opening of the St. Luke's Fruitland Respite House.
By Randall Post, News and Community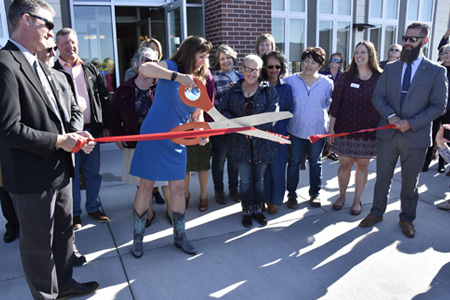 It all started with a dream. More than a decade ago Dr. Sarah Bolender, medical director for the Fruitland Mountain States Tumor Institute (MSTI), was asked by St. Luke's administration if she could do anything, what would that be?
"I'd build a respite house for Fruitland," Dr. Bolender said.
"Well, why don't you do that?" she was told.
"Yeah, why don't I?" Dr. Bolender told a laughing crowd of nearly 100 people at the St. Luke's Fruitland Respite House grand opening ceremony on Sept. 21.
The Respite House will be a welcoming home-away-from-home for cancer patients, along with loved ones helping to care for them. Nearly all MSTI Fruitland's 10,000 annual appointments are for people residing outside the city limits. Cancer patients travel great distances each from communities as far away as Whitebird, Burns, Ore., and Richland, Wash. Even routine cancers can require daily treatment for up to eight-weeks or even longer.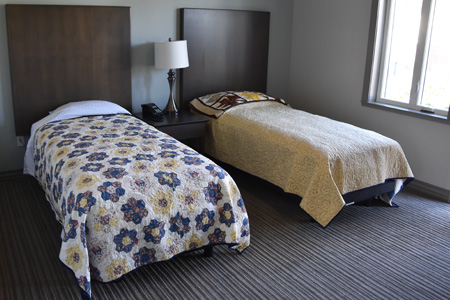 "Patients are often too ill or tired from chemotherapy or radiation to travel back and forth between their homes and the clinic," said Dr. Bolender. "They need an affordable and welcoming place to rest and recover so they don't have to worry about winter roads or driving when they feel sick."
Located about one block from the St. Luke's Fruitland Medical Complex, the $1.6 million facility offers a place to rest, recover and help to ease the burden of travel to and from cancer treatments. The design includes a one-story, 5,235-square-foot structure. It has private wheelchair-accessible bedrooms with an adjoining bathroom, along with a living room, central kitchen and dining room, library of books and family videos, RV parking area, picnic tables, a grill and outdoor patio furniture.
Local groups like Surviving Hearts are to thank for bringing St. Luke's MSTI to this point. Community members and organizations teamed up and worked over six years to raise more than $1 million to get construction going.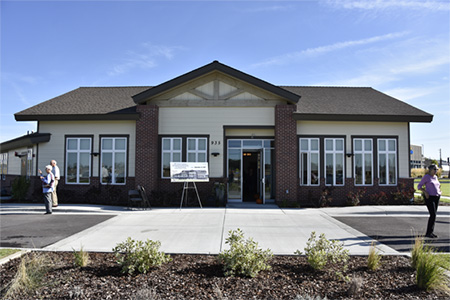 During the ceremony, Dr. Bolender held up a poster board of her hand-drawn blueprint of the Respite House:
"I went to St. Luke's administration and said 'I'll even take one of these Kit homes. This is all it needs to have: [pointing at the drawing] RV spots, rooms and a little outdoor.'"
"Well this is how it started," she said holding up drawing. Then she turned around and looked at the Respite House: "I think this looks a whole lot better! It's really a dream come true."