St. Luke's Children's nurse donates part of her liver to save a patient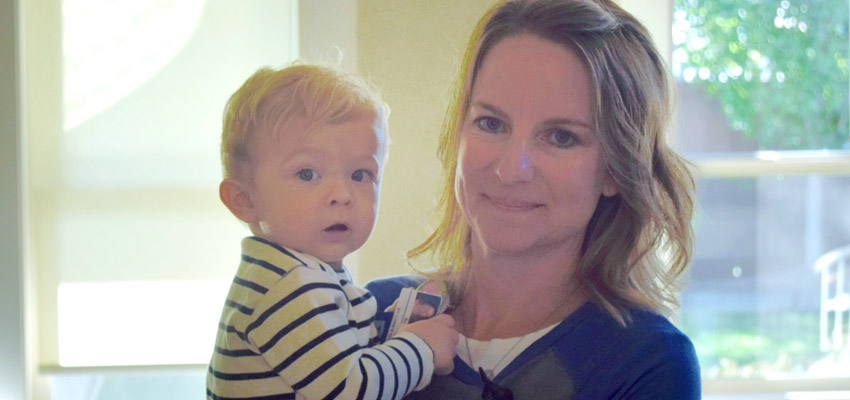 By Anita Kissee, News and Community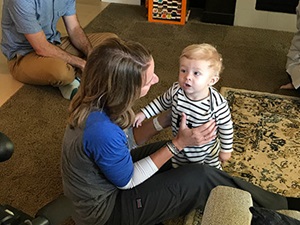 Caring is at the heart of what nurses do every day, but one St. Luke's Children's nurse took that to a new level this summer by donating part of her liver to save the life of a young patient.
"He had to have a donation to survive and it felt right. I think anybody would have done it," said Sarah Harris, a RN in St. Luke's pediatric gastroenterology clinic.
Harris first met Cole Carter in the fall of 2018. The two-month-old had a recent diagnosis of biliary atresia, a rare disease of the liver that affects babies.
"Cole was very sick. He kept getting fluid building up in his abdomen because your liver can't drain it out. His belly was getting full and he had to go in a couple of times to get it drained off. He wasn't eating well. His skin was really yellow," recalled Harris.
Several treatments in Seattle failed. Cole's next option was his only one, a liver transplant, but Cole's mom and dad weren't eligible to be his donor. That terrible news came to Jessica Carter as she walked in for Cole's appointment.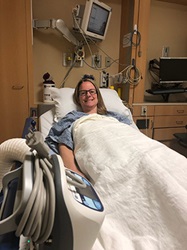 "She was upset, and I don't blame her. That's her child. It was hard to see. She didn't know if she'd have another donor," Harris said.
Compelled by Cole's contagious smile and sweet personality even when sick, Harris asked his physician what it would take to be a living donor. Dr. Tyler Burpee explained how a portion of a healthy liver and vessels are removed and transplanted in someone else. Both livers then regenerate, with the donor liver back to its normal size within a few months.
"Seeing the worry on his mom's face that they weren't going to be able to find a donor I thought, our kids are grown and I'm healthy. I could do this," said Harris. "He deserves to live. He deserves a chance and without a donation he doesn't have one."
Harris scribbled her name and telephone number on a sticky note, handed it to Cole's mom and shared what she was willing to do for him.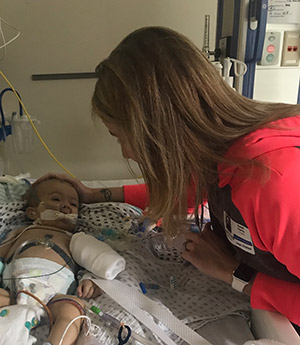 "I said, who is this woman? We've never met before. She met Cole and falls in love with him instantly and says, oh yeah, please let me take off from my working life. I was like okay. That's great. That's fine, but we're going to go through the process. We've got family. We've got this," recalled Carter. "I really struggled with letting someone do this. I remember at one point I said, I can't let her do this."
Because of strict requirements, no one in Cole's family was ultimately a good match. Instead, Harris shot to the front of the donor list. She and Cole share the same blood type, her physical exam, imaging and blood work were all great. In April, five months after they first met, Harris donated 20% of her liver to Cole.
"Probably one of the best things was when he opened his eyes in the hospital after surgery and the whites of his eyes were white, not yellow. It's amazing how the liver can start functioning when it's working correctly," Harris said.
After four months at Seattle Children's Hospital, the Carter family is now home in Meridian facing a tough few years ahead as Cole's body accepts and adapts to his new liver. But there are many joyful moments already being celebrated. Cole recently had his first birthday, and his honorary "Aunt" Sarah was there as the newest member of the family, along with her husband "Uncle" Chris.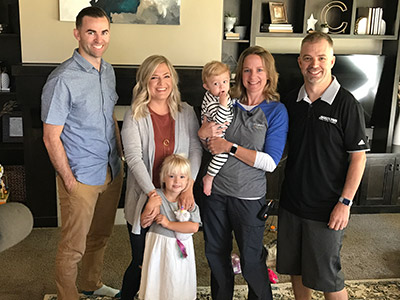 "She is an angel sent from heaven. There's no other way to describe this," said Josh Carter, Cole's dad. "Even beyond what she did for him physically, I feel more that we are blessed just to have Sarah and her husband in our lives because they're really cool people."
"We're glad he's healthy and can't wait to celebrate more birthdays. We love him. We love them," Harris said. "We are all here for the same goal. We want Cole healthy and we want him to have a chance for life."
To learn more about Cole's transplant and care, you can check out his facebook page, Cole's Liver Adventures.