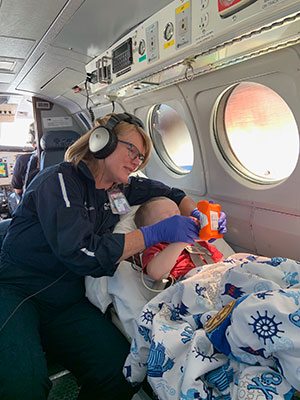 When it comes to getting newborns, children and mothers to the hospital in an emergency, Idaho has one of the best teams in place and ready. Air St. Luke's Maternal Child team (MatCh) was recently named the top neonatal and pediatric transport team in the country. The honor is thanks to a 2019 award by the Association of Air Medical Services.
The Air St. Luke's MatCh team has served Idaho and beyond for 50 years and is the first-and-only dedicated neonatal pediatric transport team in the region. The team is made up of six maternal child nurses and six respiratory therapists, and transports about 500 patients every year, many from remote, isolated communities.
"For young patients and moms, that means faster emergency response times because this team is ready 24/7 for any call that comes, and ready to provide the same hospital-level of care wherever needed," said Darra Franz, lead respiratory therapist with the Air St. Luke's MatCh team.
The team also designed a system for the tiniest patients that allows what's called an isolette to move seamlessly in and out of a ground ambulance, airplane and helicopter creating faster response times. MatCh is cross-trained to handle high-risk OB patients, and has the only dedicated ambulance in our region that is equipped to carry both a gurney and the isolette, so mother and baby can stay together in an emergency.
As a hospital-based program, the MatCh team works closely with St. Luke's NICUs, the PICU and OB physicians and clinical staff resulting in better coordinated patient care.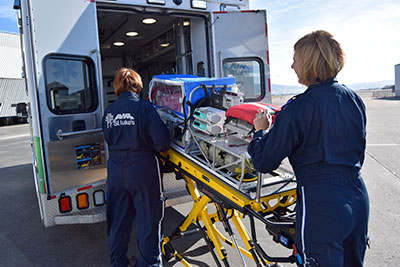 "They are such a critical component of Air St. Luke's air medical program that St. Luke's expanded the team size and resources to match the increasing need for the team's specialty patient care transport skills and capabilities," said Dave McFadyen, Vice President of Population Health for St. Luke's Health System.
The AAMS Neonatal Pediatric Transport Award of Excellence specifically recognizes Air St. Luke's for enhancing safety, leadership, and developing or promoting the improvement of patient care in the medical transport community.
"Winning this award validates the excellent work performed by the Air St. Luke's MatCh team," said Dr. Rourke Yeakley, Air St. Luke's Medical Director for the MatCh team. "This is the single highest award for a neonatal and pediatric transport in the country. It is great to be recognized industry-wide for the work each member does every day to be the premiere neonatal and pediatric transport program."
Previous winners of the Neonatal & Pediatric Transport Award of Excellence include some of the top children's hospitals in the country, include Boston MedFlight, Nichlaus Children's Hospital Lifeflight, and Children's Medical Center Dallas.
The award will be handed out during the Air Medical Transport Conference in Atlanta on Nov. 5.