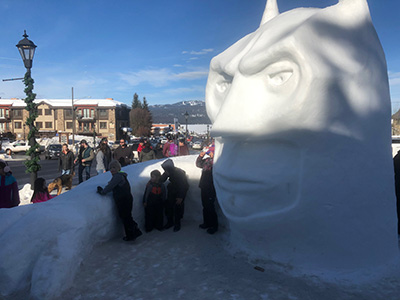 Since the 1960s, people from around the country have travelled to the annual McCall Winter Carnival. Earlier this year, thousands took in the sights and sounds, visiting the stunning ice sculptures and joining the parades through the snow globe-like streets.
Among the crowds were 115 delighted residents from Mountain Home who made the three-hour trek on two chartered buses. Earlier this year, St. Luke's awarded the City of Mountain Home Parks and Recreation department a Community Health Improvement Fund grant to offset the costs of its first ever scenic senior getaway trip.
The buses were filled with senior citizens, as well as families and children. The carnival—and the free roundtrip—provided socialization opportunities for all, especially the elderly.
"We had one senior citizen who participates in a variety of parks and rec activities," said Tiffany Belt, the recreation superintendent of the City of Mountain Home Parks and Recreation. "He's not very mobile, and his daughter came with him. He just came for the ride. He got off the bus, had lunch somewhere and got back on the bus. It was a getaway for him."
Isolation of seniors has become a growing problem across the United States, with rural areas being hit the hardest. A recent poll by the Harvard T.H. Chan School of Public Health, the Robert Wood Johnson Foundation and NPR found that approximately 2.5 million rural residents report having 'no friends or family close by' and an another 14 million report only having a few people, according to NPR. Such isolation can have drastic effects on health.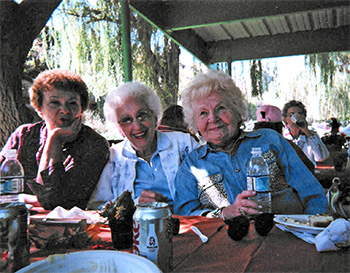 "There is a growing body of evidence that says social isolation contributes to poor health care outcomes with a power that's close to the negative outcomes from cigarette smoking," said Dr. Jim Souza, St. Luke's Chief Medical Officer.
"This is perhaps not surprising, given the fact that we are inherently social beings, and when we lose our social connections, we are more prone to depression; we are more prone to cognitive decline. And with worsening cognitive decline and depression, we are more prone to other negative health care outcomes that flow from those, on up to and including suicide."
That research includes studies that show that loneliness can be a "strong predictor of premature death," according to the European Society of Cardiology. In 2017, former U.S. Surgeon General Dr. Vivek Murthy called loneliness an "epidemic."
Increasing opportunities for social activities is one way to address that.
In Mountain Home, when the buses rolled back into town, travelers already asked to reserve seats for 2020.
"I think on all levels, not just the scenic ride, the socialization had a big impact on the seniors," Belt said.
In addition to working with community partners, St. Luke's is also addressing isolation inside the hospital walls. In Magic Valley, the senior volunteers at the hospital are often invited to a variety of socialization opportunities throughout the year.
"With the activities we do, we try to do something fun. If there is a local play, we get tickets to that. We get a bus and take folks to that," said Kim Patterson, manager of volunteer services at St. Luke's Magic Valley.
Patterson and her team have taken current and past volunteers to the Sun Valley Symphony, the College of Southern Idaho Faulkner Planetarium and even a trip to Jackpot, Nevada.
"We have been known to take in former volunteers; we just know they don't get out much and they want to socialize with each other. We open it up to a lot of folks," Patterson said. "They really enjoy these activities."