St. Luke's Magic Valley Health Foundation lends a hand when special needs arise
By Michelle Bartlome, News and Community
The saying, "It takes a village to raise a child," is one that the Cook family understands, appreciates and lives by.
Lindsay and Steven Cook, 33, live in Burley, Idaho. They have three children, one of whom has special needs. Their first-born child, Beckham, was six weeks premature because Lindsay contracted double pneumonia.
"To save my life, they had to take Beckham six weeks early," Lindsay said. "We did emergency C-section and Beckham came out a healthy baby boy.
"And then, he stopped breathing. It took them 10 minutes to get him breathing again, so he was 10 minutes without oxygen, which caused severe brain damage."
Lindsay and Beckham were in the hospital at the same time.
"You go through the full range of emotions as a parent anyway," Steven said. "There is more shock than anything, and that shock turned to concern and fear for Lindsay and Beckham since they were both intubated together.
"It was kind of almost a daze going from the NICU to the ICU every day. That was my schedule."
Beckham spent three months in the hospital, where it was determined he was having seizures. Seizures, which 10 years later continue daily.
"We didn't know quite what to expect at the beginning. Each stage, I felt like we needed to grieve because we didn't know what to expect," Lindsay said. "Every single stage of his development, even now, we think maybe he will do this. It's hard to grieve it and we are constantly going through the grieving process with him. We come to where we accept it and we dive in and we do it and then something else comes along and then we grieve again.
"As a first-time mom with a new baby, all of your hopes and dreams, and he filled a lot of that, but there were just these milestones that he wasn't hitting that were hard at the beginning."
Since he wasn't meeting his developmental milestones, Beckham began therapy when he was six months old. By age 1, he still wasn't holding his head up on his own and so therapies continued.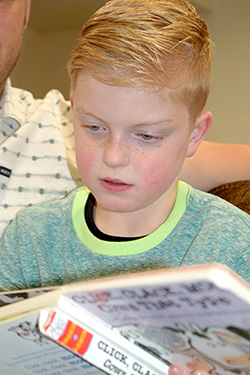 "He is developmentally about 18 months to 2 years and he is 10 years old, so it brings a lot of challenges in our lives and for Beckham," Lindsay said.
Beckham is non-verbal. He will say one or two words occasionally and he knows some sign language. He attends school and is integrated into a standard classroom with an aid by his side. He takes part in multiple rehabilitation sessions each week. His family knows him to be happy, sweet and social.
"There is no stranger to him," Steven said.
"His favorite song is 'Wheels on the Bus'. He will go up to someone and help them to sing it. He loves interaction with other people. Kids will run up to him in the store and they will say, 'Swoosh swoosh swoosh' and wave their arms back and forth. It's nice to see the impact he has had on others."
"He has made a lot of progress. He loves to give high-fives and he loves to be around other kids," Lindsay said. "It took him about three years to start to walk, but now he can run really fast.
"And he is happy. He loves to run and jump, and his favorite thing to do is swing. It gives him a lot of sensory input to swing so he loves it."
The family installed swings downstairs in the basement and plan to build some outside of their home.
When the family built their house, they planned for how to keep their eldest child safe.
"He doesn't have the comprehension that a normal 10-year-old would have, so his safety is a big concern for us," Lindsay said. "We have locks on all of our doors going outside. When he goes outside, he loves to run, and he doesn't have the understanding that it's not safe to run on the road or away from us."
About a year ago, the family spoke with Beckham's doctor and decided that a service dog would be beneficial for him.
"We were able to fundraise most of our funds in three weeks," Lindsay said. "The dog cost $17,000. Our community, friends and family contributed.
"We were short our last little bit, and that's where St. Luke's came in."


St. Luke's Magic Valley Health Foundation helped with the purchase through its Children with Special Needs fund. And while it will be two years before they receive the dog after training, the addition to the family will likely be life-changing.
"A therapy dog for our family means freedom and the ability to go and do, especially with our other children who feel the burden of being cooped and the restrictions of a house that is secure so he can't run away," Steven said.
"From Beckham's point of view, it's frustrating that he can't just go outside and run for miles and miles. A service dog can alert us or help to keep him safe."
Steven explained their future is one of "going and doing." The Cooks intend to be active, regardless of restrictions, and to experience the world.
That sense of adventure is something that brother Remington, 6, embraces.
"We go on trips sometimes," Remington said. "We do everything. We go play at the park and go to Twin Falls and eat and we play together."
The love between the three siblings is palpable. Their mother believes it has helped Beckham learn how to interact with other children.
About the fund
In 2006, St. Luke's Magic Valley Health Foundation established the Children with Special Needs fund to provide financial support for special equipment, therapy, travel assistance, family counseling and respite care for medically/developmentally disabled children up to age 18 with specific needs who are not eligible for funding by insurance or other medical assistance. The fund does not provide payment for deductibles, co-pays, etc., when insurance coverage is available, and is limited to $1,000 per child per year.
Over the past few years, more than 400 children have received help through the program. Grants have paid for speech therapy, social skills, occupational and physical therapy, learning and communication technologies, orthotics, physical corrective equipment and hippotherapy. Over the past four years, the Foundation has awarded $162,300 to children with special needs.
The Foundation has a goal of raising $500,000 for this fiscal year, $100,000 of which will be placed in an endowment to help future generations in perpetuity. All funds raised from the Foundation's June golf tournament and the Foundation's Epicurean Evening in the fall will go to the fund.
For more information on St. Luke's Magic Valley Health Foundation, go to stlukesonline.org/mvdonate or call (208) 814-0070.