St. Luke's kicks off child wellness program pilot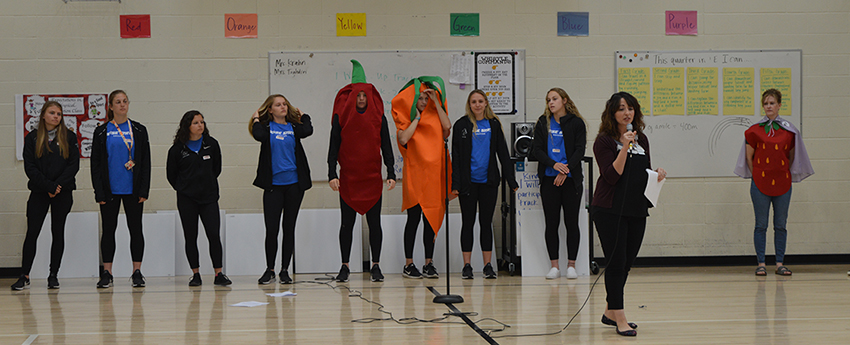 By Alexis Bennett, News and Community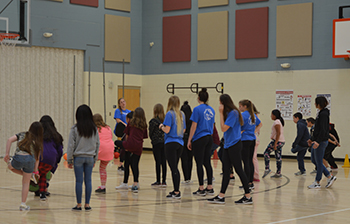 A gymnasium full of students cheered for dancing fruit and answered "go, slow and whoa" to food choices at a special assembly recently at Endeavor Elementary School.
The school is an early participant in a St. Luke's-sponsored program called CATCH, the Coordinated Approach to Child Health program, which uses an evidence-based, coordinated curriculum to promote physical activity, healthy food choices and mindfulness.
CATCH follows on St. Luke's earlier YEAH! Youth Engaged in Activities for Health Program. YEAH! classes and events will fold into clinical programming.
The new approach allows St. Luke's to reach more young people.
"We're able to run about 80 kids per year through the YEAH! program in both Nampa and Boise," said Jean Fitzgerald-Mutchie, St. Luke's community health manager. "Endeavor alone has 520 kids. If we're just looking at our school base with the pilots, we're looking at a couple thousand kids."
Endeavor is one of two confirmed pilot schools, with a third likely to join. The Magic Valley and Wood River YMCAs will also participate in the program.
CATCH has been successfully implemented in schools with similar demographics to the pilots.
"With so many (of our) kids coming from homes where they're not properly fed, as a school we can fill that need in terms of giving kids food," Endeavor Elementary School Principal Heather Yarbrough said. "We have to do a better job at informing our students to help them become their own self-advocate for the types of things they're putting into their body."
So, where do the dancing fruit and activities come in?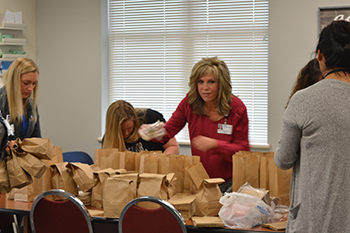 St. Luke's community health manager Jean Fitzgerald-Mutchie, St. Luke's FitOne staff and dietitians and Endeavor staff filled brown paper bags following the assembly.
To get students excited about healthy foods, Yarbrough, members of her staff and the St. Luke's FitOne team dressed in fruit and vegetable costumes. Kids were told that the louder they cheered, the faster the fruit would dance.
After the dance-off, the St. Luke's FitOne team introduced the idea of "go, slow, whoa" foods.
"Go" foods are those kids are encouraged to eat in abundance, such as fruits, vegetables, whole grains and lean proteins. "Slow" foods are those that kids are told to think about consuming less often because they're either high in fat or have added sugar, such as fruit juice or peanut butter. "Whoa" foods are treats and are recommended least often – a ball-game hotdog or a slice of birthday cake.
"I appreciate the message that no food is off limits," Yarbrough said. "You have what you have, and you have to eat what you have. It's about starting to build that knowledge that our kids have more power than they think they do.
"We often see kids come in with Takis (chips) and soda. That's their 'go' food right now."
St. Luke's Community Health donated brown paper sacks filled with seasoned popcorn to students and faculty the day of the assembly, providing a go-food alternative to a favorite "whoa" food.
"The kids are already saying it's a 'go' choice," Endeavor P.E. teacher BriAnne Taghdiri said.
Endeavor and the other pilots will test the program in May and then fully implement curriculum in the fall.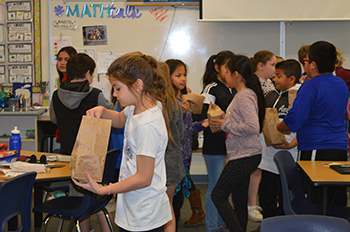 "What we're doing for schools is providing the curriculum," Fitzgerald-Mutchie said. "There's a web-based link that can be shared broadly so then all the teachers have access to the curriculum and supplementary materials. For the YMCAs and rec departments, we purchased the after-school activity kits."
The kits include journals, posters, parent forms and food and exercise activities. St. Luke's dietitians will also act as resources.
"We're super excited to have a dietitian just to help us as a staff be able to promote little switches," Yarbrough said. "There are lessons that go along with the CATCH program … Part of the journals we've created is not just about the food they're putting into their body, it's how much exercise are we actually getting and how much tech time are we actually getting.
"We're putting a lot of things into our bodies, visually speaking and nutritionally speaking. It's so much more than academics."