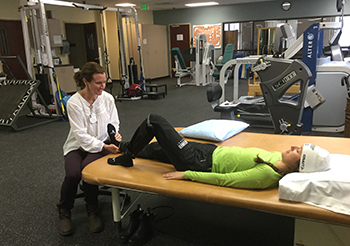 Sophia Mazzoni won't let injury keep her indoors.
And with the help of St. Luke's Wood River rehab – and her own work ethic – she's succeeded.
There are few outdoor activities that the newly minted high school graduate doesn't enjoy; she's an avid skier, runner and climber. Her primary sport is Nordic ski, for which she maintains a rigorous training schedule all year.
It's while skiing that the Ketchum resident sustained her first major injury, a labral tear in her shoulder requiring surgery.
She planned the surgery around ski season, giving herself enough time to recover for winter. She also enlisted the help of Erin Finnegan, a St. Luke's Wood River physical therapist.
"Sophia is a great patient," Finnegan said. "She's very motivated and does everything she's asked."
Outside of ski, she competes in recreational and high school running events and has qualified multiple times for state cross country and track and field championships.
Last summer, she added another achievement to her list when she became the youngest person and only female to complete the Three King's Challenge. The challenge requires summitting three of Idaho's highest peaks, Glassford, Ryan and Kent, in less than 12 hours.
All the running and climbing have led to overuse injuries – and again, to St. Luke's and Finnegan.
Mazzoni developed plantar fasciitis, inflammation of the fibrous tissue along the bottom of the foot that connects the heel bone to the toes. It typically affects both feet, one after the other. She also had Achilles heel pain and shin splints.
Overuse injuries are common with rigorous training, so Finnegan has worked to alleviate Mazzoni's pain while teaching proper body mechanics and recovery techniques.
"In the clinic, I spend time educating Sophia as a patient for proper technique while performing exercises," she said. "I also emphasize safe, effective progressions she can independently apply in her various training and racing environments.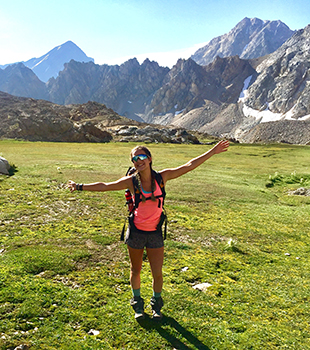 "Athletes like Sophia are traveling and can't always be in the clinic two to three days a week regularly."
By using different modalities and applying proper body mechanics, Mazzoni has been able to avoid additional surgeries and stay active injury-free. It's a victory of a different sort, and one in which Finnegan has played a key role.
"I have worked with Erin throughout high school," Mazzoni said. "She takes a generic exercise and turns it into something more specific for each individual patient.
"She always demonstrates each exercise thoroughly and clearly so when I go home, I can always do the exercise correctly. She is like a second mother to me."
In February, Mazzoni skied at the Nordic Junior World Ski Championships in Finland. She'll also be a blur throughout the summer before she heads to college in the fall.
She'll attend two national-level ski training camps and continue to train for next season. She's also planned a backpacking trip to the Swiss Alps.
Mazzoni received a scholarship to Michigan State and will ski competitively there with the hope of qualifying for national and world competitions. The Olympics aren't off the table.
Finnegan knows Mazzoni has a winning advantage and will be better prepared for the competitive demands of collegiate sports than had she not gone through rehab.
"She knows more about proper body mechanics and how to prevent injuries," Finnegan said. "And she does the work!"
And although Michigan is far from home, she has a deep bench of support at home to call upon.
"I am very available for Sophia," Finnegan said. "Text, phone, whatever, whenever.
"I believe it gives her comfort and reassurance as an athlete."