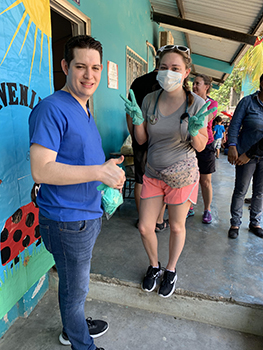 Sydney Bishop (right) supports a Honduran physician at the first day of clinic.
St. Luke's Meridian telehealth certified nursing assistant (CNA) Sydney Bishop is on her fourth medical mission to Honduras with the Faith and Humanity Medical Mission team. In her on-the-ground correspondence, she reflects on her first day, sharing the work she's been able to do and how it'll help inform her career path to becoming a registered nurse (RN).
---
Today was the first day of clinic in La Estancia, a town in the Honduran municipality of Morazán.
I started the day off in the clinic working in triage. I took adults' blood pressure while an interpreter helped to find out names and ages of patients and their reason for coming.
In the afternoon, I worked with a Honduran doctor, Edgar Sanabria. He started with our team as a translator for our team years ago and is now a provider.
While working with Edgar I heard my first heart murmur—an abnormal heart sound. It was interesting to hear and learn about. I also was able to clean and bandage a wound for a patient with an infected foot. It was great practice for my work in health care.
While here, I have made great friends with Honduran doctors Jose Kury, Jose Bolanos, Maria Navarrete and Alejandra Hernandez, who have been teaching me during clinics.
Over the years, I've also become very close friends with Carlos Gonzales Belisle, an interpreter from San Pedro, Honduras. Through the trips we have created a strong friendship that we'll have forever.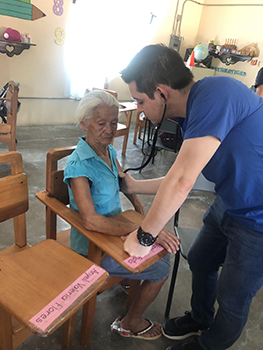 I've also made connections at St. Luke's on this trip. I'm getting to know Drs. Leslie Nona and Stephen Montamat and St. Luke's employees from all over the hospital – from X-ray to pediatrics to the emergency department. I've also met Dr. Nona's pre-med student/intern, Estefania Contreras who has been an interpreter and aid to Dr. Nona on the trip.
I'm excited to make new friendships and strengthen old bonds with the team.
This is my fourth trip, but my first time working on the medical side of the operation. It's great experience for me as I seek to pursue a career in health care.
This trip has greatly inspired each of us students.