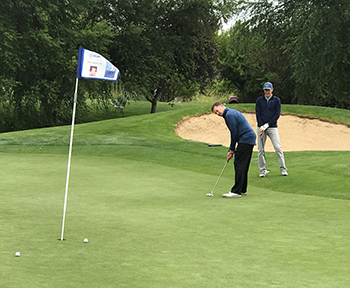 This year, the annual Brian Olson Memorial Golf Tournament fundraiser raised $23,000 for St. Luke's cancer services and colorectal cancer research.
Each June, 100 golfers play and donate on behalf of the late Brian Olson, who passed away at the age of 39 following a diagnosis of colorectal cancer. Since it began, the tournament has raised $488,000 for cancer care at St. Luke's.
Colorectal cancer is the number two cause of cancer-related deaths in Idaho. In 2016, 244 Idahoans died and 646 were diagnosed with the disease.
The key to prevention is early detection.
"Most polyps, or growths, have a 70 percent chance of turning into cancer if they're not removed," St. Luke's MSTI Executive Medical Director Dr. Dan Zuckerman said.
The American Cancer Society recently announced a change to its colonoscopy screening recommendations as the result of increased rates of colon and rectal cancer rates among young people. It now recommends screenings beginning at age 45, five years earlier than the previous recommendation, and every 10 years subsequently. Those considered high risk or who have a family health history of colon cancer should be screened more frequently.
St. Luke's treated nearly 50 patients younger than 40 last year.
To begin to understand this trend, St. Luke's is joining a groundbreaking international research study. More than 17,000 colon cancer patients from around the world will collect and donate blood, stool and tumor samples for clues into cause and prevention.
For the first time this year, a portion of the funds raised at the annual Brian Olson tournament will be used for research purposes, covering the cost of study kits so local patients can participate. Proceeds from the event will continue to help provide free, in-home cancer screening kits to patients and pay for colonoscopies for those who can't afford them.
"The opportunity for our small community to be part of this global effort to solve the epidemic of colon and rectal cancers is exciting," said Rudy Pinon, volunteer event director. "This study, along with the distribution of early detection kits and providing financial assistance for colonoscopies, makes a tangible difference in preventing this disease from devastating another family. That's what this tournament is all about and that's what Brian would have wanted."
To further encourage Idahoans to get screened, Jerry Breaux, a golf pro and director of Banbury Golf Club, is offering a free round of golf to the first 20 people who make an appointment for a colonoscopy.
To be considered, participants are asked to make an appointment and post about it on social media using the hashtag #ISignedUp. Tag St. Luke's Health System on Facebook, Twitter, Instagram or LinkedIn and inspire others to get their colon cancer screening.