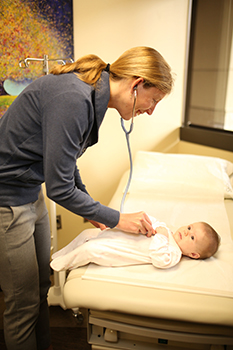 After seven years of fundraising, the St. Luke's Wood River Foundation has exceeded its $1 million goal, with $1,272,576 to be contributed to a pediatric care endowment.
Providing high quality pediatric care in a small, rural community is a complex issue. The Wood River community hasn't always had the population to support a full-time practice, though the services were needed. Without a pediatrician, young patients with serious medical issues were forced to travel for care.
In 2011, the St. Luke's Wood River Foundation and the hospital responded by working to find an innovative solution to help make pediatric services available. They agreed to bring pediatrics back, with the medical center stepping forward to fund the difference between what the practice earned and overhead until an endowment was funded.
The interim arrangement allowed pediatrician Dr. Bart Adrian to establish a two-day-a-week clinic schedule. He retired in 2017. But he'd paved the way for St. Luke's Wood River Family Medicine to bring on Dr. Katie Quayle as a full-time pediatrician in October 2018.
Dr. Quayle treats inpatient and outpatient cases as the only local St. Luke's pediatrician, and in her first six months, she established regular wellness visits for infant pediatric patients. Her very first check-up was with the daughter of Megan Tanous, chief development officer for St. Luke's Wood River Foundation.
Meanwhile, the foundation set an ambitious goal to raise $1 million toward an endowment fund that would guarantee specialized care for kids in perpetuity. Thanks to the endowment, Dr. Quayle will continue to meet local health-care needs.
"I appreciate how committed the community and the foundation are to having pediatrics in the valley," Dr. Quayle said. "It is a wonderful place to be a pediatrician."
"We are extremely grateful to the community for fulfilling this need," Tanous said.
To learn more about the St. Luke's Wood River Foundation, visit www.slwrf.org or contact Marsha Edwards at [email protected] or 208-727-8416.