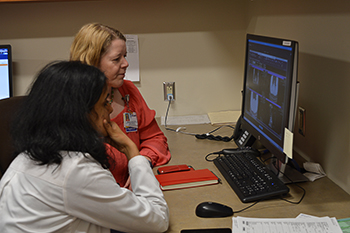 The doctor is in.
Nampa, that is, and that's good news for Canyon County and rural residents in particular.
This month, St. Luke's expanded its partnership with Family Medicine Residency of Idaho (FMRI). The six new residents will serve in St. Luke's Nampa hospital, where they'll receive a broad range of clinical experience through inpatient and outpatient rotations and three rural rotations.
Idaho ranks 49th in the nation for its ratio of active physicians per 100,000 patients, according to the Association of American Medical Colleges, and the provider shortage is particularly acute in rural counties like Canyon, Owyhee and Payette counties, where the residents will train.
St. Luke's residency programs in Boise and Magic Valley have been at capacity for years. This year, along with the entirely new program, St. Luke's and FMRI secured an additional residency opening in Boise and moved Magic Valley residents exclusively to rural rotations in ongoing efforts to meet the state's need.
As a relatively new hospital and a Federally Qualified Health Center (FQHC), St. Luke's Nampa qualifies for reimbursement designation from the Bureau of Primary Health Care and the Centers for Medicare & Medicaid services to start a new residency program.
Nampa's curriculum is modeled after the health system's existing programs in Boise and Magic Valley, focusing on preparing residents to be well-rounded physicians with a bent toward rural health care.
"The goal of training is to get people prepared to go to rural and underserved populations," said Dr. Kim Stutzman, FMRI program director Nampa and chief rural officer. "They don't just do outpatient medicine. They need to be able to also do shifts in the emergency room, deliver babies and practice without the addition of specialty support."
Residents will work directly with and learn from attending physicians and St. Luke's faculty. Dr. Stutzman will oversee the program and its residents, who've been selected from around the world.
Resident Mark Dahle, MD is a local. He's a Fruitland High School graduate and earned his bachelor's degree from Brigham Young University, Rexburg before attending Ross University School of Medicine. His studies have taken him abroad to the country of Dominica and to Miami and Bakersfield, Calif., but his desire to give back and serve in small communities motivated him to return to Idaho after medical school.
"This program won me over because there's a breadth of training and ability to scout a wide variety of new procedures with the new hospital," said Mark Dahle, a resident and Fruitland native.
"We'll be able to work with faculty within the systems in place to make this residency sustainable," he said. "I get the distinct impression of their passion for the success of us as residents—not just a passion for medicine, and certainly for the people of the community."
The other five residents come from diverse areas, as close as Spokane, Wash., and as far as Bangalore, India.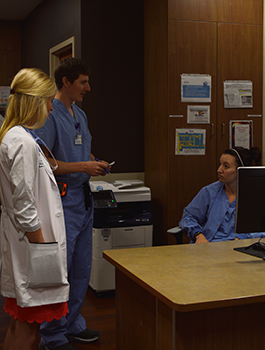 Residents Alyssa Griffin, MD and Derek Kohlhase, MD consult with a St. Luke's nurse during a rotation at St. Luke's Nampa labor and delivery.
"Doctors tend to practice where they do residency," Dr. Stutzman said. "Most practice within 70 miles (of their residency), and FMRI as an institution has a 53 percent retention rate."
The new residents have the potential to have a small but mighty influence on Idaho's provider-to-patient ratios, improving accessibility to quality health care throughout the state and especially southwestern Idaho.
"I'll spend one rural rotation in Fruitland and I'm looking at branching out into areas that I'm not as familiar with," Dahle said. "I definitely want to stay in Idaho.
"Having the residency program with St. Luke's, and getting to know the system, there's a high likelihood that I'll want to stay in the system in one of St. Luke's more rural areas."
Meet the residents
The community is invited to join St. Luke's and FMRI in celebrating the new St. Luke's family medicine residents at an open house on July 16 from 5:30 to 7:30 p.m. at the Nampa Hispanic Center, 315 Stampede Drive, Nampa.
Learn more about St. Luke's residency program in partnership with FMRI online or contact Nampa residency program coordinator Adriana Olivas at 208-954-8745.