St. Luke's volunteers put the finishing stitches on their 40,000th bear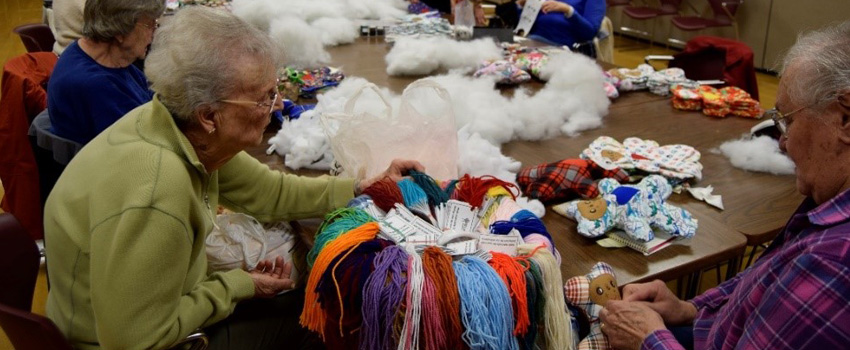 St. Luke's Boise Teddy Bear Group meets weekly at the Boise Senior Center.
By Anita Kissee, News and Community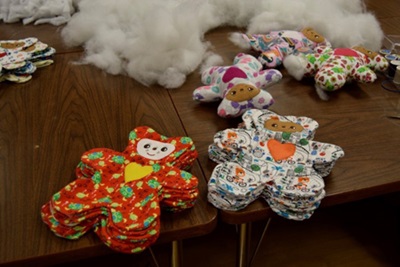 Teddy bears ready to be stuffed.
Visit the Boise Senior Center on a Thursday morning and you'll hear the laughter of a group of women who get together not just to catch up and talk, but to share the love by crafting small teddy bears for the young patients of St. Luke's Children's Hospital.
"It's such a joy," said Diane Huelskamp, one of the newest volunteers with the St. Luke's Boise Teddy Bear Group.
"Out of your heart, sometimes your hands will speak, and that love that's in your heart can be transported almost like healing hands," she said. "That healing power can go in to a hug. It can go in to every stitch that you do because it's personal, because these stitches are personal. It's almost like a thumbprint."
Over the 21 years that the women have gathered to stitch and sew, they've handmade 40,000 teddy bears. Each teddy bear represents a young patient who had a procedure at St. Luke's.
"We try to hug every one before it goes out the door, because we want the love to stick," volunteer Jan Cundiff said.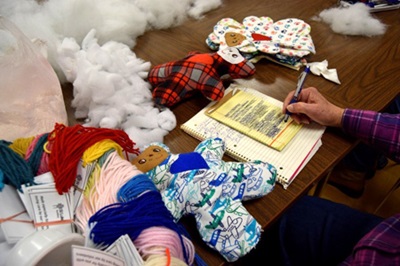 The idea for the bears came about in 1998, when a St. Luke's recovery nurse noticed the children had nothing to hold while facing surgery, CT scans or emergency treatments. Toys from home aren't allowed in sterile environments.
"I think it means a great deal to the child and the parents, because the parents don't have to sit there constantly beside them and comfort them," longtime volunteer Evelyn Behncke said. "With these, they can hold them, use as a pillow or throw them across the room if they want. They aren't going to do any damage."
The St. Luke's volunteer office organized the sewing group, which Behncke joined early on. The group still has a bear made with the original pattern, which they say has been upgraded a bit.
"We use flannel now because it's warm and cuddly," Behncke said. "These ladies used to donate fabrics and stuffing. Now we have gone to the St. Luke's Axillary Board, and it's kindly helped us out and pays for all of this."
For two decades, the volunteers gathered in a room at St. Luke's Boise Medical Center. The group is so large now that last year, it moved over to the Boise Senior Center.
Huelskamp found the women there after her recent move to town.
"When you look at the stitches, sometimes you know who stitched what because of their personality and how they stitch," she said.
The care shows in each one of the more than 40,000 bears they've traced, cut out, sewn, stuffed, stitched and hugged in assembly line fashion. The group barely slowed down to pay tribute to the milestone bear, moving on to the next, knowing there were children waiting.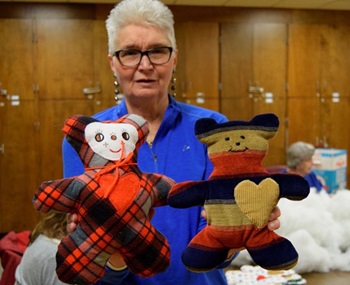 Jan Cundiff shows bears now and then.
"Every now and again, we get a thank you saying how much the bear means," Behncke said. "We see them out in town with the bears, and even heard about one kid who took theirs to college. That kind of feedback is food for our souls."
Behncke's fondest memory was when one child came to see where her teddy bears were born.
"When we were in the hospital, she came and stood in the doorway, a girl about 12," she said. "She had had 27 procedures, and with each procedure, she got a teddy bear.
"She said she named all the bears after the nurses that took care of her."
Getting involved
The Teddy Bear Group welcomes fabric, sewing supplies and of course, new sewing volunteers.
"We keep getting younger blood in," long-time volunteer Jan Cundiff said. "We have three 90-year-olds and some in their 80s, then 60-year-olds, and we're happy to get them because we expect it to go on."