St. Luke's support keeps amputees active and involved
By Chris Langrill, News and Community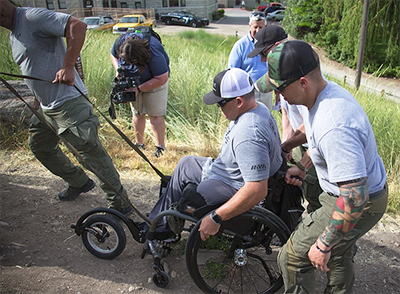 When Amber Gerulf was growing up, she didn't have to look far to find a stellar role model.
"My grandmother was a double amputee, and she was tough as nails," Gerulf said. "There was nothing that she couldn't do. If somebody was doing something, she was right there with them. She never let it hold her back."
Gerulf became interested in helping amputees as she studied to become a physical therapist, and carried that interest into her career at St. Luke's.
"I would get patients with amputations, and I would ask them if they were part of any kind of support group, and the answer was always 'No,'" Gerulf said. "I did some research and found that within a 500-mile radius of Boise, there were no support groups for amputees."
Gerulf gathered information from the Amputee Coalition website and, with the support of her manager, invested time and effort into starting an amputee support group through St. Luke's.
She launched the St. Luke's Amputee Support Group a little more than a year ago.
"Since we started, we've grown pretty significantly," Gerulf said. "I want any amputee who is coming from any prosthetic company to feel welcome at the support group, including veterans."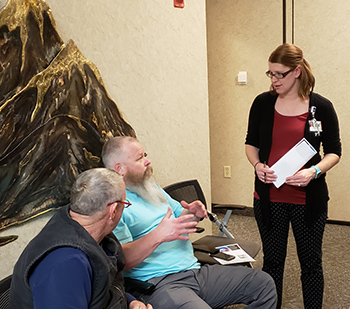 St. Luke's physical therapist Amber Gerulf was the driving force behind the creation of the St. Luke's Amputee Support Group.
The group meets once a month at the Idaho Elks Medical Plaza and has featured different discussions and speakers, including Dorian Willes, a Paralympic athlete. Topics have included gait analysis, phantom pain and how to navigate insurance.
Along with the support group, Gerulf and other organizers support members to get out in the community, encouraging them to get involved in and even helping to organize activities. Their effort has helped many to rediscover their mobility.
"I'm really happy to see it growing and seeing some of the participants get out in the community, doing the LIMBitless climb, going out bowling and just getting out of the house and sharing their stories," Gerulf said.
The climb – formally known as the LIMBitless Challenge – has taken place for the past four years. The most recent challenge took place this past fall, when 33 adaptive teams and more than 130 volunteers hiked to the top of Table Rock.
Joe Wegley, a St. Luke's physical therapist and secretary of LIMBitless.org, helped members of Gerulf's support group become aware of the challenge.
"LIMBitless is a grassroots non-profit that was established here in Boise," Wegley said. "The mission is to help people with mobility limitations achieve recreational activity."
Five of Wegley's patients and former patients participated in the LIMBitless Challenge last year.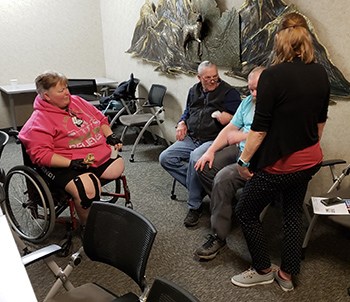 "It was a very powerful moment for a lot of them," Wegley said. "I had one gal who 10 years ago received her diagnosis, and she used to run Table Rock and she hadn't run it since. Between walking and a little bit of wheelchair assistance, she negotiated the trail for the first time in 10 years. It's just very powerful for a lot of people."
Gerulf said the support group has been a catalyst for members to become involved in the LIMBitless Challenge and other activities.
Sherry Case became an amputee less than three years ago. She said she struggled to find ways to connect with fellow amputees before hearing of the St. Luke's Amputee Support Group.
"The first time I came here I cried, because I didn't know other amputees out there," Case said. "The amputees – and Amber – are there for you.
"It's just so important to know you're not alone," she said.
Needless to say, Case is appreciative of Gerulf's efforts.
"She just has a heart," Case said. "And she has given so much."
The St. Luke's Amputee Support Group meets at the Idaho Elks Medical Plaza, Building 1, in the Large Elks Conference Room. Meetings take place at 6 p.m. on the first Tuesday of each month. Email [email protected] for more information.
For more information about the LIMBitless Challenge, go to LIMBitless.org.