On Feb. 22, 365 days of hard work will culminate in a 17-hour dance party in Boise State University's Recreation Center.
While an all-nighter spent dancing might not sound like much of a work-break to most, for the hundreds behind Boise State's Dance Marathon event, the all-nighter is the reason for the yearlong effort to support St. Luke's Children's Hospital and the Children's Miracle Network.
The annual fund-raising event is one of many dance marathons across the country. Each brings people, primarily college students, together to dance and raise money for local children's hospitals.
Boise's is one of the fastest growing and most successful on the west coast, and organizers aim to stay out in front.
This year's goal of $208,000 exceeds last year's record-breaking year by $5,000.
"It's an intimidating number," said BSU Dance Marathon Director of Marketing Elizabeth Mabbutt. "It honors the great 208. We're really focusing on individuals in the community and the alumni who've played such a huge role in getting this started."
The Boise State team has exceeded its goal every year, raising $5,000 in 2012, their first year, and growing exponentially since.
This year, the main event begins Feb. 22 at 3 p.m. in the rec center. Dancers won't stop until final fundraising numbers are announced at Feb. 23 at 8 a.m.
Many are drawn to the cause, including some executive members, by personal experiences with Children's Hospital. Others are committed to the mission of helping the next generation. Some are drawn by dance. Few leave once they've seen the impact dance can have in the community and for our kids.
Events and planning take place all year and become more frequent leading up to the final day, so it's never too late to get involved.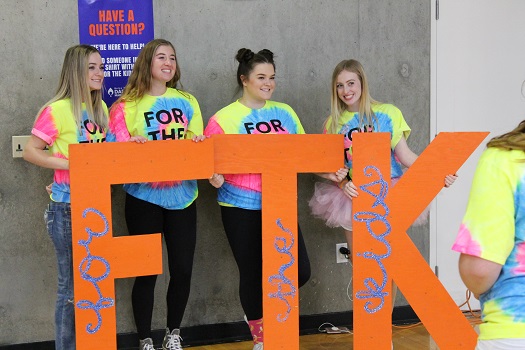 Here are some ways to participate:
Feb. 5, 5 to 9 p.m.: Café Zupas on Broadway will donate a portion of sales when you mention "dance marathon" to the cashier at check-out.
Feb. 8, all day: 208 Day, coinciding with a big push from Miracle Makers' to make the ask for Dance Marathon day donations. Want to contribute?
Feb. 22, 3 p.m.: Dance Marathon kicks off at Boise State Recreation Center.
Feb. 23, 7 a.m.: Circle of Hope, a special participant-only vigil to celebrate patients and their families.
Feb. 23, 8 a.m.: Dance Marathon comes to a close and final numbers are announced.
The group started with two students in 2012 and now have hundreds of Miracle Makers, or participants, each year, making it one of the largest on-campus student organizations.
"We're hoping to have 800 participate this year," Mabbutt said. "We already have about 600 registered."
Miracle Makers, for those unfamiliar with the jargon, are responsible for the event's success through participation and fundraising. There are other Dance Marathon buzz words. Champions are the kids selected as the inspiration behind each year's cause. They are real patients at St. Luke's Children's Hospital and are invited to show up throughout the event and during the Circle of Hope with their families, leaving the hospital behind temporarily. You can find them listed on the site.
Other teams work all year to make Dance Marathon a success. The Feet in the Street are charged with getting the word out. The morale tea shows up at events, such as the annual Holiday Parade and Steelheads games on behalf of St. Luke's and performs choreographed dances to get people excited. The EXECs are full-time students and leaders who plan and run the event.
The slogan For the Kids (FTK) knits these players together. It's the hashtag and North Star that keeps everyone motivated.
"Most people assume that we're raising money for a dance competition," Mabbutt said. "We've learned to lead with, 'Do you want to help kids at St. Luke's?' When people realize we're raising money for kids, their eyes light up."