Finding a cyclist anywhere but on two wheels during a ride is never a good sign.
Yet, lying on the ground in tall grass is exactly where avid biker Mike Penrose and his bike were found on a late-July day.
Penrose was on a training ride for Rebecca's Private Idaho, a difficult 90-kilometer race in Ketchum, when he went down.
"The last thing I remember about that ride was passing Sun Valley's Dollar Tree Lodge at the bottom of the hill," he said.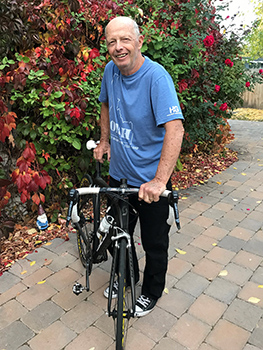 Two passing Idaho Power employees saw him and stopped. Workers with the utility company are required to maintain annual CPR training so were able to perform chest compressions until ambulances arrived from Ketchum and Elkhorn fire stations.
Penrose was transported to the St. Luke's Wood River emergency department.
"Mike became conscious in the ambulance and was sweating and combative, which is not an uncommon phenomenon in his condition," said Dr. James Torres, St. Luke's Wood River emergency physician and stroke lead.
Penrose was sedated for intubation and testing. He had fractured ribs and possible head trauma, but there were no blood-markers indicating a cardiac event or stroke. He was stabilized and transported by helicopter to Saint Alphonsus.
There, he underwent further testing. He had a nine-second V-tach (Ventricular tachycardia), a type of regular, fast heart rate that arises from improper electrical activity in the ventricles, or chambers, of the heart. A few seconds aren't a problem, but longer periods are dangerous. Penrose's results weren't significant enough to cause alarm and he was sent home with a cardiac monitor and instructions to follow up with a cardiologist.
As a corporate pilot for many years, Penrose had physicals, ECGs and stress tests on a regular basis. There was never any indication of an issue. He did pay attention to his nutrition, though, and exercised regularly because his father passed away at 52 from a heart attack.
Knowing his family history, he immediately made an appointment with cardiologist Dr. Marcos Daccarett at St. Luke's Heart Clinic in Boise.
Dr. Daccarett thought there was something going on. He didn't think Penrose just fell off his bike since CPR brought him back. He ordered an angiogram. And 20 minutes after the test, Penrose and his wife Nancy were given the results: life-threatening lesions on the heart. Penrose was scheduled for a double-bypass open heart surgery the following morning.
After four days recovering in the hospital, he went home and started working with St. Luke's Magic Valley Cardiac Rehab.
With the help of the procedure, rehabilitation and hard work, Penrose is back to his active lifestyle, and giving thanks for every day and for all those who made it possible for him to return to the activities he enjoys.
On Feb. 2, 2019, seven months after his fall, he competed in the Half Boulder Mountain Tour, a 15-kilometer cross-country ski race from Baker Creek to Sawtooth National Recreation Area headquarters.
He competed alongside 900 participants – including his heart surgeon and cardiologist.