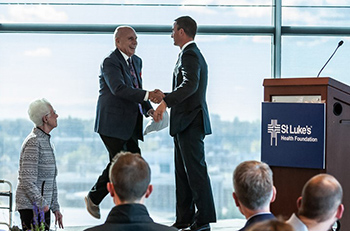 For more than 50 years, Boise residents Jim and Gail Hawkins and their family have been receiving quality medical care from St. Luke's. But the couple isn't looking back. They're paying their gratitude forward.
The Hawkinses have the distinction of making the first irrevocable bequest intention, to support cancer care, that St. Luke's has ever been the beneficiary of. The bequest feature is a new component of St. Luke's planned giving program and can be made by people age 70 and older who would like to commit an estate gift toward an ongoing philanthropic campaign, giving them the ability to see impact take root during their lifetime.
The couple was recognized April 17 during St. Luke's Treasure Valley Foundation's annual Celebrate Giving reception, when dozens of generous donors gathered in the Stueckle Sky Center on the Boise State campus to be honored for their dedication to the organization and care for patients.
Both Jim and Gail have been treated for cancer, and the family looks to St. Luke's to provide quality care close to home.
"St. Luke's has been a critical part of the family since 1967," Jim Hawkins said.
Jim and Gail met at the University of Idaho, where he received a business degree and she completed a teaching certificate. In 1996, Jim was awarded an honorary doctorate in administrative sciences.
Jim worked in the telephone and banking industries throughout his career. Gov. Cecil Andrus put him on a new path as the director of the Idaho Department of Commerce in what would otherwise have been his retirement.
What hasn't changed is the family's connection to St. Luke's. The Hawkinses have been annual donors since 1984, and Jim has served on both the St. Luke's Strategic Initiatives Committee and the foundation board.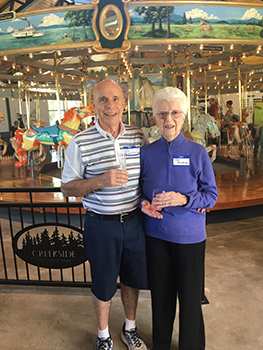 Donors Jim and Gail Hawkins.
Funding contributed by generous donors such as the Hawkins family is used for everything from gas money for needy patients to very expensive medical equipment that some rural locations might never be able to afford for themselves. That includes donations to St. Luke's community partners at times, and has meant St. Luke's can extend the quality of care far beyond its own physical locations. Thousands of donors, volunteers and community partners give, help to determine the best ways to share the funds and distribute the financial support as effectively as possible.
The couple believes that their bequest is a personal responsibility.
"St. Luke's is a community hospital, so we all have ownership," Jim Hawkins said. "We should support these hospitals. We have a vested interest so they can grow and continue to provide great quality care treatment."
"We are so grateful to Gail and Jim for their vision and commitment to St. Luke's," said Christen Wilmer, director of major/planned gifts with the St. Luke's Foundation.
"St. Luke's hospitals and clinics have a long tradition of providing exceptional care. This legacy gift will ensure this tradition continues for generations to come."
Your Generosity Changes Lives
Every gift makes a difference, no matter the size.
For questions about the St. Luke's Foundation, the Legacy Society or gift giving, contact [email protected] or 208-381-2123. For more information, visit the donor and volunteer site.