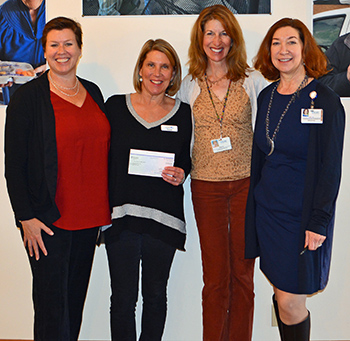 St. Luke's presents holiday donation check to Senior Connection. Left to right: St. Luke's Wood River Director of Community Engagement Erin Pfaeffle, Senior Connection Executive Director Teresa Beahn Lipman, St. Luke's Wood River Outreach Coordinator Erin Buell and St. Luke's Wood River Public Relations Coordinator Joy Prudek.
When employees at St. Luke's Wood River recently surprised the Senior Connection, a nonprofit organization, with a check for $3,000, everyone fought back tears.

"It was a very touching moment," said Erin Pfaeffle, director of community engagement at St. Luke's Wood River.

The Senior Connection provides a variety of support, including meals to elder populations in the Hailey area, and was one of 10 nonprofit organizations across southern Idaho and eastern Oregon that received an unexpected donation thanks to St. Luke's employees.
For the second consecutive year, the St. Luke's holiday gift program gave employees the option to accept a small gift in December or vote for a nonprofit organization to receive a donation instead. More than 1,100 employees voted to support local nonprofits.
The money for the Senior Connection will help provide hundreds of meals.
"For the employees of St. Luke's to validate our mission and services in this way just leaves me speechless, but also heart-warmed and hopeful," said Teresa Beahen Lipman, executive director of the Senior Connection. "I commend your employees for being so community minded – for the Senior Connection and any other organization that benefited."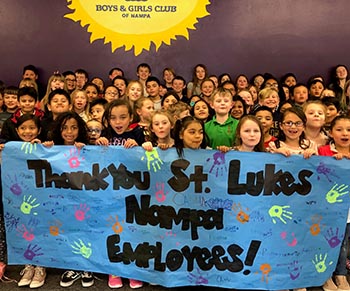 Recipients include nonprofits across St. Luke's service areas, from the United Way of South Central Idaho in Twin Falls to the McCall Food Bank. A total of $30,000 was awarded among the 10 organizations.
The Boys and Girls Club of Nampa was elated to receive a surprise donation. The club serves an average of 230 children each day, many of whom come from low-income households.
"(St. Luke's) support helps us continue our work every day with kids who need us the most," said Melissa Gentry, the club's executive director.
The holiday gift program is one way that St. Luke's shows appreciation for employees and their contributions each year, said Sheri Wilson, talent program manager at St. Luke's.
"We are happy to hear our team members enjoy this option," Wilson said. "We received positive feedback about the addition of more local organizations in our service areas. Thank you to our peers in community engagement for partnering with us."
St. Luke's introduced the charitable giving option in 2017 after receiving employee feedback.
"This is a wonderful way for our employees to connect with some of our great community partners," said Theresa McLeod, senior director of community engagement at St. Luke's. "These organizations are working to help children, families and community members live their healthiest lives. We are honored to support them."
---
Donation recipients
Boys and Girls Club of Ada County
Boys and Girls Club of Nampa
Boys and Girls Club of Western Treasure Valley
Elmore County Domestic Abuse Council
Martha and Mary's Food Pantry
McCall Foodbank (Heartland Hunger & Resource Center)
Senior Connection
St. Luke's Children's
St. Luke's MSTI
United Way of South Central Idaho
Amy Stahl, Erin Pfaeffle and Joy Prudek contributed to this story.