One by one, participants will cross the FitOne finish line Saturday at Ann Morrison Park.
Everyone will have reason to celebrate their accomplishment, but Kathy Gregory will be especially grateful to have taken part in the 5K portion of the event.
Gregory, 53, is a brain tumor survivor who has spent the past six months recovering at Touchmark at Meadow Lake Village, a retirement community in Meridian. She will be joined on the FitOne course by a group of about 50 supporters from Touchmark – a mixture of staff, staff family, residents and fitness club members.
Gregory has come a long way from her surgery, and she's gained a lot of friends along the way.
"She was super-positive, and we loved her from the start," said Shelly Henderson, health services administrator at Touchmark. "She was so cute, so excited to be here and to get started living life again."
That's a far cry from Gregory's attitude before her surgery. Gregory had a slow-growing tumor that developed over the course of 5 to 20 years. Two years ago, she began having acute symptoms.
Her left eye would go black. Her right leg would give way, leading to falls. She had massive headaches that she thought were migraines. She lost her sense of smell, gained weight and suffered from severe depression.
Gregory said her biggest scare came in January, when both of her eyes went black and she was unable to see while driving in her car with her son.
Finally, in March, St. Luke's neurosurgeon Dr. Edward Duckworth diagnosed what Gregory would come to call "the monster," a massive tumor that was putting pressure on her brain.
Dr. Duckworth scheduled the surgery for the following week. The surgery took 15 hours, and Dr. Duckworth and his staff were able to remove the entire tumor that was wrapped around two arteries. It was benign.
"He saved my life," Gregory said of Dr. Duckworth. "He was very proactive, and immediate in knowing that I needed to get this big monster out of my head. He's very calm, so that helped calm me, as well. … He's my hero, and I even told him that."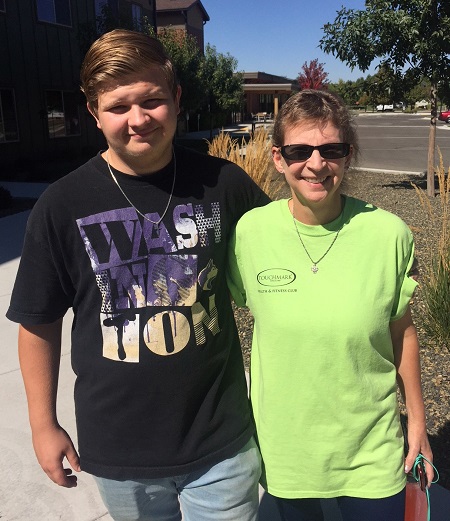 Kathy Gregory, pictured here with her son, Jacob, is grateful for support she received while recovering from surgery to remove a benign brain tumor.
On March 29, Gregory moved into Touchmark and began getting her life back.
"When she first came to us, she … was very dizzy when she tried to walk, and she had to move very slowly," Henderson said. "We helped her with a lot of things, her showering, getting dressed. She wasn't able to get herself off the floor. … Her muscles just weren't responding to her brain yet."
Said Gregory: "I really wanted to learn how to simply pick a pen up off the floor. I've finally achieved that goal by retraining my leg muscles by walking and daily exercise classes."
Despite Gregory's frustrations, Henderson said she tackled her rehabilitation with an amazing attitude.
"She was just so appreciative of anything anyone did for her," Henderson said. "She was just joy, she just radiated joy after all this stuff she went through."
Today, Gregory is a different person. Henderson said anyone meeting her for the first time wouldn't know the ordeal she has been through.
Now, six months post-surgery and 53 years old, Gregory is ready find part-time work, along with a new apartment.
"She's made a lot of friends at Touchmark," Henderson said. "And now we'll be together to show her our continued support in walking with her on Saturday."
Said Gregory: "For me, FitOne is about inspiring others. Feeling better and daily exercise have a domino effect. Exercise gives me better confidence, and it makes me feel great."
Gregory said she has a lot to be thankful for these days, and she will have plenty of gratitude on her mind as she walks the FitOne course. She will be thinking about all the people who have helped her along the way, including her surgeon, Dr. Duckworth.
"I want him to be proud of me," she said. "I just hope he's proud of how much I've progressed. It just means a lot to me that he knows a lot of what I'm doing is for him, a way of thanking him."