Magic Valley resident Carolyn Kohntopp is no stranger to cancer.
Kohntopp, 79, was diagnosed with breast cancer 10 years ago. Her 42-year-old son John, a former teacher and a "sweetheart," found out he had pancreatic cancer just a few months before he passed away this spring. Her father had cancer, too.
Despite her hardships, Kohntopp is determined to remain positive. Working to stay happy has become her secret to getting through difficult times, she said.
She shares her family's story to encourage others to be more mindful of their own health.
"I had fibrosis in my breast, but I refused to self-check," Kohntopp said. "My father died of prostate cancer, which spread into his liver and his spine so I didn't want to check myself."
At the time, Kohntopp was teaching music at the Castleford School District.
When she went in for a checkup they found a lump in her breast, leading to a mastectomy.
"I remember crying before the operation," Kohntopp said. "Looking back, it was a very good thing. I was very lucky."
She didn't need chemotherapy or radiation therapy and is now cancer free.
Kohntopp and her husband, Dean, planted a garden in their backyard this year to honor their late son, the youngest of their four children. John taught agriculture for years and had returned to Buhl to take over the family farm.
"Live each day to the fullest because you don't know if you have another day," she said.
Kohntopp acts as an advocate in the community and reminds others to go to the doctor for their screenings.
"I tell all of the young girls that I see, don't wait to get screened at 50 years old and to be proactive."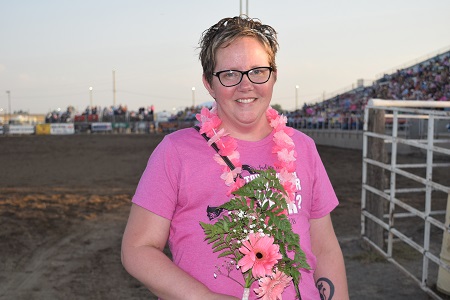 Ivy Jenks
That sentiment is echoed by Ivy Jenks of Gooding.
"Get a mammogram," Jenks said. "Do your monthly checks. No one knows your body better than you do. I think that if I had gone in earlier and hadn't ignored it, I would be in a better position than I am in right now."
Jenks was in the process of becoming a surrogate and needed clearance from her doctor before she could enter into an agreement to carry a pregnancy for someone else.
"I had a lump," Jenks said. "I knew it was there, but I ignored it. My mother died of breast cancer several years ago. So, I thought, 'What are the odds of me having breast cancer?' Looking back now, I realize my changes were higher. Finally, I went in, and the doctor said, 'It is probably nothing, but let's get a mammogram.'
"Two days later, I was in for a biopsy. And the next day I got a call, and they said it was a cancerous tumor."
Jenks had surgery in May 2017, followed by 16 rounds of chemotherapy. And, then, radiation therapy.
Regrettably, doctors recently found cancer in her bones, and she is still fighting. Jenks takes oral chemotherapy every day.
"I hurt. I'm in pain all of the time," Jenks said.
Because of her young age at diagnosis and her family history, she was encouraged to speak with a St. Luke's genetic counselor and undergo genetic testing to look for hereditary forms of cancer, which she did.
It turned out that Jenks is positive for a gene mutation that puts her at higher risk for breast and other types of cancer.
Jenks joined Kohntopp and other cancer survivors for the commemorative ride in the Tough Enough to Wear Pink wagon at the Twin Falls County Fair and Magic Valley Stampede on Aug. 30.
For the third year, St. Luke's Magic Valley helped to sponsor Tough Enough to Wear Pink, where the first 200 people to buy a ticket for the rodeo wearing pink received free admission. (Pink is traditionally the color used to bring attention to breast cancer causes.)
Tough Enough to Wear Pink
Tough Enough to Wear Pink is a volunteer group that got its start by providing mammograms for people with little or no insurance. Giving has since expanded to include breast cancer diagnostic examination, the next step if a mammogram reveals anything suspicious.
The organization also contributes to the St. Luke's Mountain States Tumor Institute emergency breast cancer fund, which helps people with breast cancer pay for expenses incurred during treatment – something patients like Jenks say is "so helpful."
Consider genetic counseling if you have a family history of cancer
Someone with a family history of certain cancers is more likely to be diagnosed with the disease within their lifetime. Even though only 5 to 10 percent of cancer diagnoses are considered to be hereditary, if you have a personal or family history of cancer that you are concerned about, genetic counseling may be a helpful resource.
Genetic counseling also may help to identify those who are most at risk in a family in order to promote early screening and possible prevention.