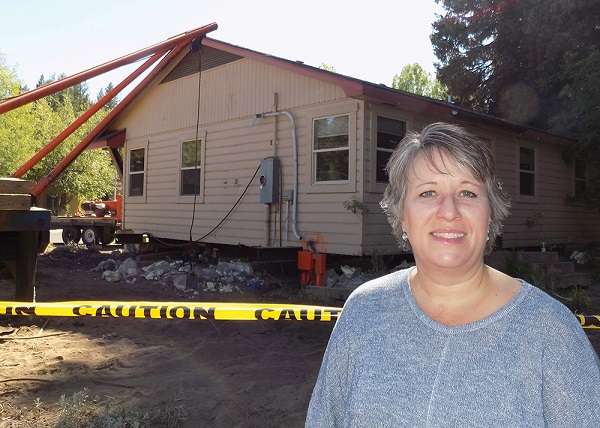 Editor's note: The following article written by Drew Dodson was originally published in The Star-News in July 1018 and has been reprinted with permission:
Cori Rice knew she had to do something when she learned the building that aided her journey to beating cancer was slated for demolition.
So Rice arranged to acquire the former St. Luke's McCall Integrative Medicine Clinic, have it moved off its foundation on Hewitt Street and trucked to a lot in the Valley View subdivision south of McCall. The move was completed last week.
"If somebody would've said that I would own this building at some point and I would move it, I would've thought they were crazy," said Rice, 47, of McCall. "And my husband did think I was crazy."
Rice was first introduced to the clinic at a friend's urging two years ago after a suspected gall bladder attack was diagnosed as ovarian cancer.
"It was a dire diagnosis; it was late-stage, high-grade, aggressive – all the things you don't want to hear. It was scary," said Rice, who owns The Christmas House in McCall.
Rice underwent the most aggressive form of chemotherapy possible with "grueling" treatments three times a week for six months, she said.
She also underwent multiple surgeries before being told she was in remission in January.
The clinic's Hope and Healing program served as supplementary treatment to her traditional chemotherapy treatments.
The program is designed for those suffering from illness to get support and resources, including a library, nutrition advice, acupuncture and meditation.
The program is still offered at the clinic's new location at St. Luke's Long Valley Clinic at 301 Deinhard Ln. The former residence on Hewitt Street had to be removed to make way for the $35 million expansion of St. Luke's McCall now underway.
Rice's prognosis weighed on her, particularly since she had a 5-year-old son and a teenage daughter when she was diagnosed in 2016, making extra support from the clinic critical.
"The hardest part was, boy, I didn't know when I brought these kids into the world that I might not be around to raise them," she said.
Services offered by the clinic were helpful for Rice, but she also credits the building's energy for her recovery and for inspiring her to save the building.
"To me, this building was a big part of that because I felt good when I was there," she said. "I felt better leaving there than I did when I went into the building."
Dr. Dan Ostermiller, who opened the clinic in 2006, attributes the palpable energy associated with the building to blessings conducted by late Nez Perce Elder Horace Axtell.
Axtell performed ancient rituals prior to the clinic opening its doors to help foster a healing spiritual presence, said Dr. Ostermiller, 61.
"It's important that we all tap into our spiritual side as much as we can and realize it's as important to take care of that as well as our physical and mental health," he said.
The Nez Perce blessing is just part of the healing, Dr. Ostermiller said. "It is also the spirit of the people who work and practice there," he said.
Rice is convinced patients of the former clinic building felt a certain energy.
"I think anybody who has sought services inside this building would attest to the fact that there's a real tangible vibe," she said. "For some reason, I feel like it needs to continue."
Renovations to once again make the building a home are expected to be complete this fall, paving the way for another family to reap the healing benefits just like hers," Rice said.
"Somehow, this building is connected to my future, not just my past," she said. "I've always felt that."
St. Luke's McCall agreed to allow Rice to relocate the building in order to save the hospital the cost of removal or demolition.
The deal was approved by the McCall Memorial Hospital District, which owns the land under the building and leases it to St. Luke's McCall.