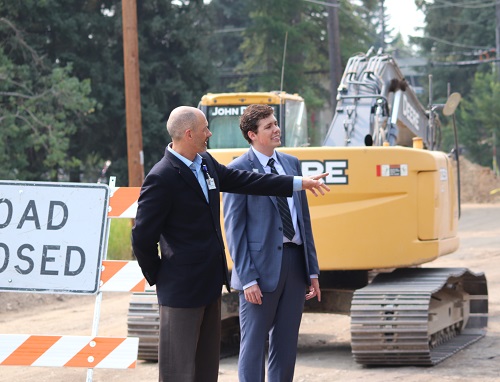 St. Luke's McCall regularly hosts residents, medical students and clinicians meeting their educational requirements for rural rotations.
This summer, the McCall team provided a hospital administrator internship, for Boise State's master's student Matthew Kline. A first for St. Luke's McCall.
Kline was already familiar with the hospital. When he was a freshman at Boise State, his father told him he had to get a summer job in either Boise or McCall, where the family spent their summers. It was an easy choice for Kline; he chose McCall.
He was hired to work the night shift at the hospital's registration desk. It remained his summer job for the next five years.
He received front-line experience checking in patients for diagnostic testing and emergency department visits during McCall's summer peak season. He also experienced the rigorous training and challenges of St. Luke's transition to a common electronic health record system.
"No matter what challenge the team faced, we always maintained a positive attitude while continuing to serve patients," he recalled.
It was not his first experience with health care.
As a newborn at St. Luke's Boise, Kline was diagnosed with Tetralogy of Fallot, a congenital heart defect caused by heart abnormalities. He also developed gastrointestinal complications. At one point, he was so unstable his surgeon had to perform the first-ever surgery in St. Luke's Pediatric Intensive Care Unit.
By the time he was 13 months old, he had undergone five surgeries, culminating with open-heart surgery in Portland.
"The life-saving care I received from the doctors and nurses at St. Luke's enabled me to survive open-heart surgery," he said.
His desire to build a career in health care began in high school when he gained exposure to different opportunities as a heath occupations student at Boise High School. He earned certifications as a nursing assistant and pharmacy tech and served on the St. Luke's Children's Hospital Advisory Board.
While he ended up not choosing to pursue a career as a medical clinician, he knew he wanted to work in health care and set out to earn a master's degree in business administration from Boise State, where he is serving as president of the MBA Student Association.
During his hospital administration leadership internship he was able to work side by side with St. Luke's McCall Administrator Sean McCallister and other members of the leadership team.
"Hospital internships are key to developing and mentoring future health care leaders," McCallister said. "Matthew's internship was mutually beneficial and exceeded my expectations. He is a skilled and dedicated professional who delivered high-quality work products and results for St. Luke's McCall."
Kline's duties included working with the hospital's community health work group and evaluating data gathered at health summits held throughout the year. He also supported the Advanced Care Planning program and evaluated safe routes and signage during the hospital's expansion project road work project.
"It has been one of the greatest privileges of my life to serve with the McCall team," he said. "The staff and patients have provided me with inspiration as I transition to the next chapter of my life and career."