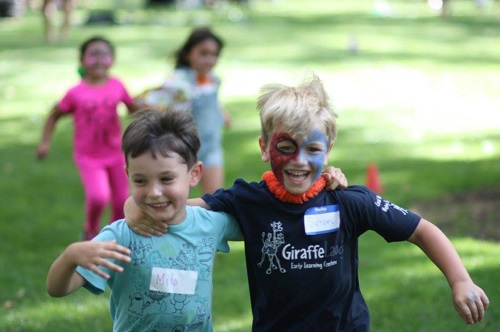 Education is a critical component of the 'social determinates of health,' defined by the World Health Organization as "the conditions in which people are born, grow, live, work and age."
Boise-based nonprofit organization Giraffe Laugh Early Learning Centers, which provides childcare services for newborns to elementary school-age, aims to get kids off to a healthy start through engaging educational experiences.
St. Luke's provided a Community Health Improvement Fund (CHIF) grant this year to Giraffe Laugh to help the organization expand its summer programing for kids.
"Our budget for extracurricular activities is between $6,000-$10,000, and St. Luke's contributes to a large portion of that and that just makes it possible for those kids to have the same experiences as their peers," said Lori Fascilla, Giraffe Laugh's executive director.
Activities this past summer included swim lessons, learning about reptiles and visiting the Idaho Botanical Garden. They even got to tour the HP campus and learn about coding.
"Every time I turned around, they were doing something new," Fascilla said. "A lot of things that promoted tons of physical activity and also getting out in the world and engaging with their community and seeing what's out there—they just had a ball."
Giraffe Laugh serves about 200 children a day in four locations across Boise. More than half of the kids come from families that likely would not be able to afford the cost of attendance without scholarships.
"That's the population that really benefits from these activities because they are doing things they wouldn't be able to do if it wasn't for grants like St. Luke's," Fascilla said.
"It levels the playing field for these kids when they go into kindergarten because they have the same vocabulary and the same experiences and they learned how to swim and know the Botanical Gardens. They've built a bot; they've done all sorts of things that maybe their regular-income peers had access to."
Kristin McGee manages sponsored programs at St. Luke's, and is a longtime supporter of Giraffe Laugh. Both her daughters have attended Giraffe Laugh.
"Over the years, I just kept getting more involved as I became more and more passionate about not just the care they provided my kids, but the care I saw they were able to provide other kids that maybe couldn't afford it," McGee said. "They are making these kids really amazing, well-rounded individuals. It's just incredible to see."
Giraffe Laugh is one of approximately 90 nonprofit organizations in the Treasure Valley to receive a St. Luke's CHIF grant. This year, St. Luke's invested more than $600,000 in programs that address the social determinates of health, such as education, through innovative partnerships.
For Giraffe Laugh, those grant dollars resulted in more learning opportunities for more kids.
"It's equitable, and we just couldn't do it without St. Luke's," Fascilla said. "It makes such a huge difference in our budget and our ability to provide to those kids and families."