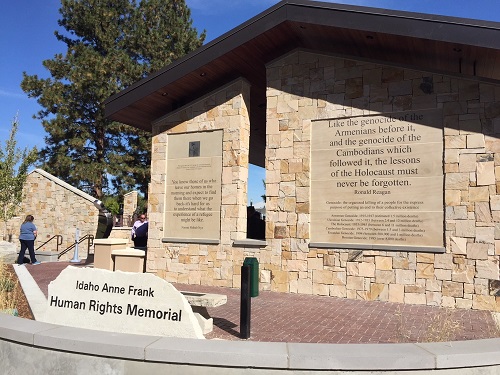 When tourists and new community members come to Boise, Mayor Dave Bieter often recommends a visit to the Idaho Anne Frank Human Rights Memorial.
"To every single group, I say, 'go visit the Anne Frank Memorial.' It is hallowed ground in the city of Boise," Bieter said.
Now, newcomers will have another reason to visit the memorial, as the Wassmuth Center for Human Rights earlier this month unveiled the adjoining Marilyn Shuler Classroom for Human Rights at the memorial.
"I didn't think this was possible, but this ground was made more hallowed with the addition of the Marilyn Shuler Classroom," Bieter added.
The memorial (initially built in 2002) and classroom are located near downtown Boise next to the Boise Library.
A special ribbon-cutting ceremony was held Sept. 20. In addition to Bieter's remarks, actor Wesli Spencer of New York delivered an impassioned speech, celebrating human rights and quoting historical figures such as Eleanor Roosevelt, Edmund Burke and late former Idaho Governor Cecil Andrus.
Shuler died in 2017 at the age of 77 after a career dedicated to fighting for human rights. Andrus called Shuler the state's "moral compass."
In 2009, St. Luke's Health Foundation honored Shuler with the Ralph J. Comstock, Jr. Light of Philanthropy Award.
More than 500 individuals, businesses and foundations donated to construct the classroom, which features an interactive display and the "Spiral of Injustice" sculpture. St. Luke's donated to provide a bench inside the classroom.
"We are honored to support the Marilyn Shuler Classroom and celebrate human rights," said Theresa McLeod, director of community engagement at St. Luke's.
Thanking all who have supported the project, Wassmuth Center executive director Dan Prinzing stated, "They built a heart in the heart of downtown Boise."