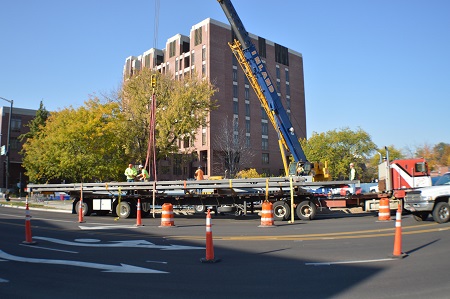 Giant pieces of the historic sky bridge that will connect the new Idaho Elks Children's Pavilion to St. Luke's Children's Hospital are now on site in Boise and ready to be put together. These pieces are the frame to what will eventually be Idaho's first and only sky bridge to connect two buildings over a roadway.
The pre-constructed steel trellis frames for the sky bridge were delivered to Boise over the weekend. They were trucked in two-by-two from K & T Steel Corp. factory in Twin Falls, and delivered to an empty lot just north of the Boise hospital. With careful coordination between traffic control and construction crews, a large crane lifted the heavy steel frames, swung them around from Avenue B and slowly lowered the beams onto the empty lot. That lot was once the site of a historic home that has since been relocated by St. Luke's to a new spot on Avenue B.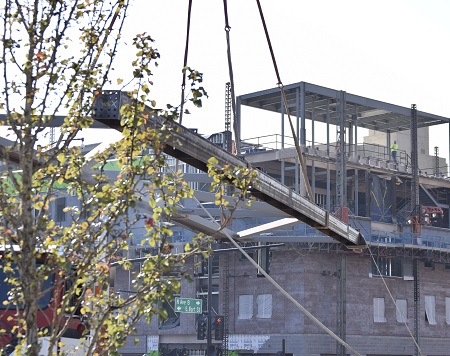 Over the next two months, workers will preassemble the 123 foot box truss sky bridge. Instead of being constructed in the air, the 90 ton structure will be built on the ground. When complete, the sky bridge will be hoisted in one pieced by two massive cranes, turned and rolled a short distance down Avenue B. Crews will then set the sky bridge in its new permanent place over one weekend. This construction technique was selected in order to have the least impacts to the surrounding community and traffic, and proved to be the safest. That placement is expected to happen at the end of the year right around Christmas.
"It's a really unique cool feature," said Jamal Nelson, project superintendent. "That is where my focus has been for the last year, and in the next eight weeks I'll be making sure it goes off without a hitch."