St. Luke's offers community "Stop the Bleed" training and kits
By Laura Crawford, News and Community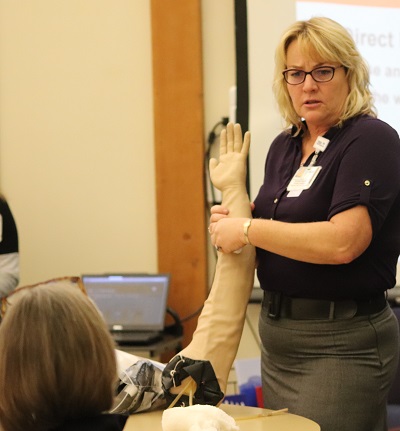 Uncontrolled bleeding is the number one cause of preventable death in trauma. A person who is bleeding can die from blood loss within five minutes, according to the World Health Organization.
That's why St. Luke's is offering "Stop the Bleed" training to the community.
"Stop the Bleed" is a nationwide campaign and call to action to encourage bystanders to become trained, equipped and empowered to help in a bleeding emergency before professional help arrives. The program was developed through a collaboration with the American College of Surgeons, government, federal agencies, military, law enforcement and the medical community in response to the 2012 mass shooting at Sandy Hook Elementary School and other mass casualty events since.
Along with the training, St. Luke's is donating bleeding-control kits to schools and other organizations that take part in the training. The kits contain supplies to help anyone who is hemorrhaging stay alive until medical care is available. Funds to purchase kit contents were provided by Midas Gold.
"Stop the Bleed" is the first community outreach program offered by St. Luke's McCall to help prevent trauma injuries and improve outcomes if they do occur since the hospital received level IV trauma designation this fall.
Jill Morris-Chapman, St. Luke's McCall trauma program manager, is providing "Stop the Bleed" training and kits to school staff in the region. Community classes and training for organizations and businesses will be offered in the future.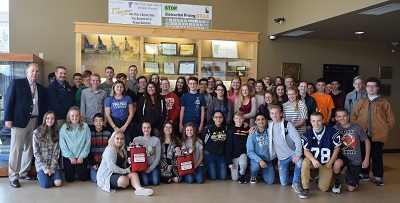 Twin Falls High School recently received "Stop the Bleed" education and kits.
Other St. Luke's medical centers seeking trauma designation are also offering the program.
In October 2018, Twin Falls High School, Canyon Ridge High School and Filer High School received "Stop the Bleed" education from the Magic Valley Paramedics and kits for each of their schools. Students Fallon Cassidy of Filer High School and Karlee Price of Twin Falls High School worked together for their senior projects to raise money to buy kits for schools. They arranged for sponsors, held a car wash in August to raise money and donated $13,307 for kits. School sophomores Riley Hubsmith, Kaitlin Evans and Tai Walker raised $900 for the "Stop the Bleed" fund.
The Jerome Fire Department is raising money to distribute kits in Jerome. The fire department, along with the Jerome School District, hosted a 5K "Stop the Bleed" fun run in August to raise money. Jerome High School will receive training and kits soon.
St. Luke's Magic Valley Health Foundation also provided funds to help purchase kits and supplies, educational and marketing materials and training.
In Wood River, training and supplies are offered to community organizations, businesses and groups through a grant from the St. Luke's Wood River Foundation.
And the St. Luke's Boise injury prevention team is working to train employees, with plans to take it to the community in the future.