Maria Castillo tried going to the gym, but it wasn't until she started attending a free, low-impact fitness class that she began to see an improvement in her health.
Castillo is a resident of the Nampa Housing Authority (NHA) near downtown Nampa. NHA provides 142 units of safe and affordable housing at nine locations throughout the city.
The 52-year-old Castillo walks from her home to the 45-minute classes offered at noon Tuesdays in a multipurpose room at the NHA office.
"Before, she wanted to be home eating and laying down," said instructor Eva Aguilar, translating from Castillo's native Spanish to English.
"Now, everything is better. It relaxes her and she feels better."
The weekly class, conducted against a backdrop of music from different cultures and styles, and a series of day-long, high-energy classes were funded by a St. Luke's Community Health Improvement Fund grant.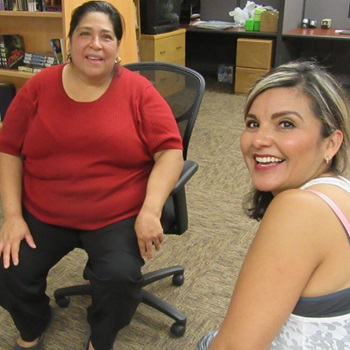 NHA's Aguilar and Kelly Grill teamed up on the grant application.
"We just love helping the community with music and dancing," Aguilar said.
NHA Executive Director Andy Rodriguez believes fitness and health habits should start at an early age.
"Our program is aimed at improving the prevention and treatment of diabetes and obesity," he said. "This will improve the overall health in the community we already serve."
The program is not exclusive to NHA residents, however.
"We are reaching out to our residents and the community in general in order to engage as many as individuals as possible," Rodriguez said.
The music is key the class' success. Instructors weave Spanish language songs, salsa and meringue together with hip hop and top 40 tunes.
"Any music that will get the crowd doing. We want everyone to feel comfortable," Aguilar said.
Aguilar was part coach and part cheerleader for the 10 men and women who attended a recent session. The resident services supervisor at NHA, she also teaches at Super Nutrition and Dance nearby.
Standing at the front of the class, Aguilar leads some gentle exercises while holding light hand weights. After a stretch and single arm lifts, the group claps in time to the music while moving from side to side. "If you want to sing, you can sing," she says, as the music pulsates.
"Go at your own pace," she calls out. "As long as you are moving, you are ahead of the game."
Chanting "one, two, three, four," Aguilar leads the class in punching motions.
The music moves quickly from "Havana" by Camilla Cabela to "Can't Hold Us" by Macklemore & Ryan Lewis.
"We know we all have daily life struggles, but music helps us move better," Aguilar said.
In the low-impact class, dancing is intermingled with slower stretches, with participants seated on metal folding chairs.
"If you feel it too much, then slow down," Aguilar urges the crowd. "We're still burning a lot of calories when we are stretching."
Aguilar is inspired to help people enjoy exercise and music while improving their health.
After her daughter was bullied in eighth grade, they started working out together. Now 20, Aguilar's daughter is also a coach.
"She struggles with self-esteem, but she knows that working out will help her feel better."
Aguilar believes in the power of fitness.
"It sends kids a positive message," she said.
The grant also funded Healthy Eating and Dining with Diabetes classes.
Healthy Eating is offered by Eat Smart Idaho to increase the self-sufficiency of participants and engage families through community-based, informal education.
Dining with Diabetes is offered through the University of Idaho's Extension Office. It provides nutrition education and cooking instruction for people with diabetes and their family members or caregivers.
But the weekly fitness class is what motivates Castillo.
"Because it takes effort to sweat, she has been feeling good and mentally better," Aguilar said. "And she likes the music. We had to have faster songs to keep up with her."