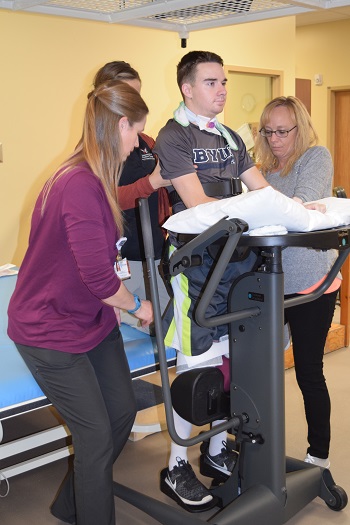 Physical therapy for Daniel Bird, 24, involves standing, hand and arm movement and a whole lot of joking with the care team and cheerleading on the part of a very devoted spouse.
"You got it," Ivie said during an hour session in mid-November. "Great job."
Talking, bearing weight on his legs and moving his hands weren't possible for Bird a few months ago. Even the simplicity of wearing sneakers now is reason to celebrate.
Bird came to St. Luke's Magic Valley on Sept. 27 with a rare disorder in which the body's immune system damages the nerve cells, causing muscle weakness and sometimes paralysis. It's called Guillain-Barre syndrome (GBS).
According to the Centers for Disease Control and Prevention (CDC) GBS can cause symptoms that last for a few weeks or several months. Most people recover fully from GBS, but some people have permanent nerve damage.
In the United States, an estimated 3,000 to 6,000 people develop GBS each year on average.
Bird's symptoms began rather quickly.
"It took about a week to set in," he said. "At first, I had just gotten back from the gym and my hand started to tingle and my feet. Nothing else that day really. You don't think anything of it.
"And then, the next day, it started to get worse. About the fourth or fifth day, I was walking like a puppet almost. Things just weren't working.
"Eventually, I kept falling and I couldn't catch myself at all. So, we went to the emergency room."
At the time, the Birds were living elsewhere in Idaho. They asked to be transferred to St. Luke's Magic Valley to receive care close to family in Rupert.
"It continued to progress. It went up my lungs and I couldn't breathe that well. I wasn't getting enough oxygen so they had to put a full-on tube down my throat. I had that for about a week," Bird said. "I was on a ventilator for a while. It was hard because I couldn't talk to anybody. I was basically just staring at people and trying to do hand signals and blinking. That was a really hard challenge to deal with is not being able to communicate."
"At the beginning, we didn't know it was going to be that long of a process," his wife said. "Once it got into his lungs, it shut everything else down. That's when it hit me, like, this isn't your new life, but this is a big change and this is what we have to be ready for."
Bird receives therapy at the Gwen Neilsen Anderson Rehabilitation Center throughout the day, including speech, occupational and physical exercises.
The family now celebrates the little things he has achieved.
"When we first got here, he didn't have a ton of movement," his wife said. "They would put their hands on him and they could feel the muscles trying to move. Ever since we got here, progress has been made. The biggest thing was being able to watch him itch his head because in the ICU he couldn't do that. He has more control. He is starting to get trunk control and more movement in his legs.
"It's the little things," she said. "You take those little things for granted when you're not having to go through that."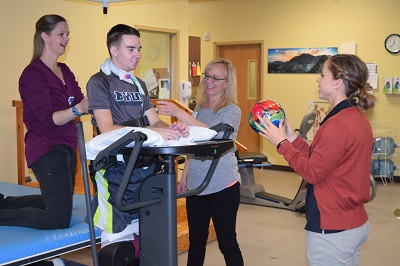 Bird has taken his recovery in little steps.
"I'm a simple person. I am just trying to take it day by day and not think about the big picture," he said. "My first goal here was to drink a glass of water. Eventually, like now, I am able to. Just last week, I am able to drink thin liquids again. I didn't even think about that this week I am going to push really hard to get a drink of water. It just happened from doing it day to day. Like right now, I am not worried about what I'm going to do tomorrow or how our therapy is going to be.
"Just take it a day at a time."
His motivation to be successful is his nine-month-old baby girl, Hensley.
"She has been a big motivation to do things because right now I am missing out on a lot," he said. "Because babies, they just soak up everything. Like right now, she is learning how to stand up on her own and it is really hard to be here and not be a part of it. Because I love her and I want to help her so I can be a good dad. I guess the best way that I can be a good dad is to do my best here. So I can see her sooner."
Knowing the wonderful connection between father and daughter, Bird's wife brought a large picture of Hensley to the hospital so he could see her all the time. She also brings his daughter to visit and uses technology like Facetime to keep them in contact.
"When he was in the ICU and sedated and couldn't really talk very much, we wanted to have a picture of Hensley because that's his motivation – his little girl," his wife said. "So, we had a picture made up and we stuck it right on the wall so as soon as he opened his eyes – that was the first thing that he saw – was her."
To celebrate Thanksgiving, the Bird family is coming to the hospital.
"We want to make it not seem like an every day," his wife said. "We want to try to make it special. We want to bring Thanksgiving dinner to him. To bring his favorite foods. He is cleared to eat foods now, right in time for Thanksgiving."
Among his favorites for their feast: mashed potatoes and green bean casserole.
Bird has spent his birthday at the hospital and with the holidays coming, he is hopeful to be home. With an expected discharge date of Nov. 29, he is looking forward to spending Christmas with his daughter and family.
"I think I'll be home by Christmas. That would be nice," he said. "I figure as long as I do my best every day, whenever I go home is when I'm ready. I'm still not able to walk really or do a lot of the big things that I need to do before I go home."
The family plans to move in with Ivie Bird's parents in Rupert when her husband is released. They'll add some accessibility features to make the adjustment back home easier. And, Bird will continue outpatient rehabilitation.