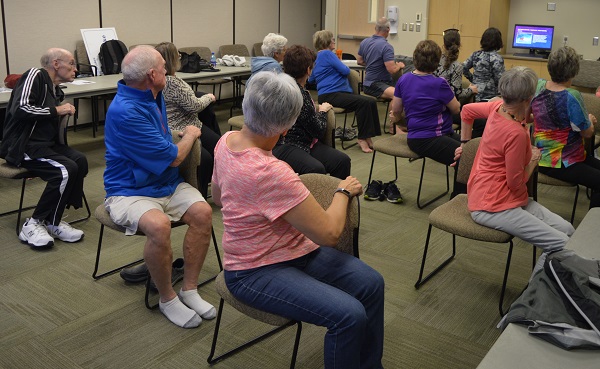 People have a better understanding of one another when they have had shared experiences, whether that experience is attending a movie or a comic book convention.
That simple principle is the guiding force behind Life After Stroke, a group the meets every third Thursday at St. Luke's Meridian Medical Center.
"It's a very supportive group," said Teresa Smith, St. Luke's Treasure Valley stroke program manager and the facilitator of Life After Stroke. "We've been very blessed with people who want to use their experiences and help someone else, or to grow from it and be positive. That's really contagious."
Greg Hobbs, who suffered a stroke in March of 2015 at age 49, likes to compare people who have had strokes to people who have been involved in an earthquake. Both groups of people have experienced a traumatic event, some worse than others. But it helps to talk to one another about that experience and how they have dealt with the aftermath.
That communal spirit is palpable in the room when the members of Life After Stroke meet.
"I like it, because it's a great time to talk to someone else," said Susan Frost, who suffered a stroke in 2009. "I try to be an encourager for other people and tell them that things can get better."
That reciprocal relationship can key for people who are recovering from stroke, said Dr. John Perl, a St. Luke's neuroradiologist.
"Depression is really common following stroke, and these support groups allow people to develop effective coping mechanisms and strategies for getting better," Dr. Perl said.
That's why it's so important that Foster shares her stories about how she has improved in the years since she first suffered her stroke.
"It helps guide people to the path to recovery," Dr. Perl said. "It provides people with road maps."
Smith took over as the leader of Life After Stroke about a year and a half ago, after St. Luke's realized its support group needed to be reimagined.
"We had a stroke support group in the Boise Rehab hospital … and it just wasn't thriving," Smith said. "It wasn't growing and it wasn't keeping members.
"So, one of the things we did was look at the demographics of the stroke patients, and we found that Meridian was more central to where all of our stroke patients lived."
Smith also said the tone and purpose of the meetings was also changed.
"There's a certain segment of people that feel uncomfortable in a setting where they feel like they're going to sit around in a circle and share their feelings. They don't want to do that," Smith said. "So, we've retooled it and made it more of a seminar/support group setting. … The purpose of the group is to bring in speakers that would help enhance recovery."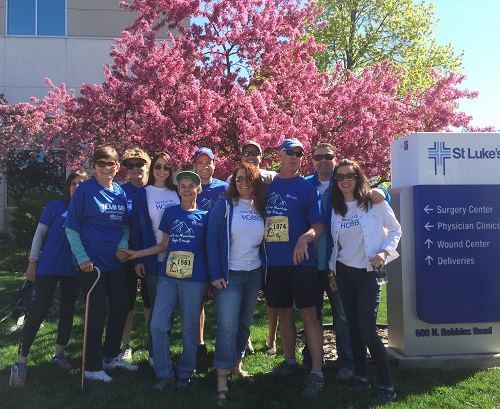 In the past few months, the group has learned about the benefits of chair yoga and how to battle insomnia and get a better night's sleep.
"It's less intimidating, because you're coming here to receive information and support, opposed to coming here and having to open up to a group of strangers right away," Smith said.
The change in philosophy seems to be working.
"The group has grown," Smith said. "We've had as many as 25 people, and I think we'll continue to grow. (In Boise), the program had one or two people that attended it, and sometimes no one would show up."
It's important to note that the group isn't just for those who have suffered a stroke, but also their families, friends and caregivers.
Billie McDonald has attended recent meetings with her sister, Jan. McDonald's husband suffered a stroke in July last year, and is still not able to attend the meetings.
"(The stroke) has really turned our lives upside down," McDonald said. "So, I found I really needed an outlet, and I was reaching for anything. The first time we came, I thought, 'This is it. This is something I've got to do.'"
McDonald said hearing encouraging stories from Frost and others has been invaluable.
"They might say, 'I had my stroke five years ago, and at first I couldn't walk or anything,'" McDonald said. "Well, that gives me hope, and then I tell my husband about it and that gives him hope. … This (group) just helps. It helps me."
Susan Lehman said the group has helped her develop a better relationship with her uncle, who had a stroke about nine years ago. The two have attended the meetings in Meridian for more than a year.
"I think people feel like they have a common bond here, and they can really open up and people understand what they're saying," Lehman said.
She said she has seen firsthand the positive effects the meetings can have on her uncle.
"It's made a big difference," Lehman said. "He's a positive person anyway, but this has certainly given him a reason, when he's been down, to get back up and go."
Dr. Edward Duckworth is a St. Luke's neurosurgeon who has saved lives – and preserved peoples' quality of life – with the treatment of his patients. He's also a huge fan of the idea behind the Life After Stroke group.
"I think it's fantastic," Duckworth said. "I applaud Teresa and St. Luke's for being leaders in the community for that kind of thing. … I think it's critically important."
Learn More
For more information, call (208) 381-9383 or email. Registration is not required to attend the meetings, which are conducted in the lower level of St. Luke's Meridian Medical Center.