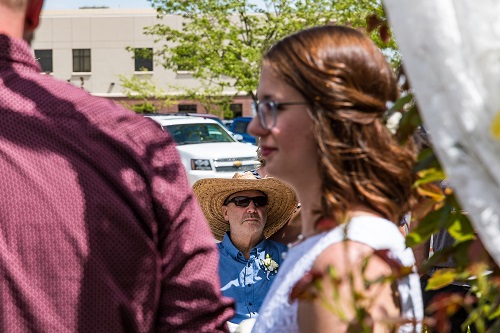 On a beautiful spring day in May, Tristan and Jacob stood beneath an archway in the St. Luke's Magic Valley McKain-Kinney Remembrance Rose Garden.
As they smiled and exchanged wedding vows, Tristan's father looked on. It's a moment that Tristan wasn't sure was going to be possible.
Tristan Leovy, 21, and Jacob Hartman, 20, were engaged in September. Their wedding was planned for May 19 in Boise, where they live.
Life had other plans.
Tristan's father, Bob, was admitted into St. Luke's Magic Valley's Intensive Care Unit (ICU) the last week of April. He had just moved back to Twin Falls from Virginia.
Bob had sepsis in his left foot and it continued to worsen after being admitted to the hospital. He subsequently was moved to the ICU.
"It seemed hopeful that he was going to get out soon and I was thinking, 'Well, at least he could still make the wedding in a wheelchair to walk me down the aisle,'" Tristan said. "As we continued down the road of figuring out what is best for my dad and for healing, a lot of other issues came up."
Complications included problems with Bob's heart, an amputation of his leg and a suspected stroke.
Tristan spoke with her soon-to-be-husband to figure out their wedding plans. With the possibility of her father facing open heart surgery, they made the decision to get married immediately.
"I spoke with my brother and told him that we were coming from Boise," Tristan said. "My brother said, 'That's all that Dad wants, is to be at your wedding.' So, we said, 'OK. Let's do a ceremony.'"
Tristan and Jacob called their officiant, who lives in Twin Falls, along with close family and friends to spread the news that they were getting married at 2 p.m. Thursday, May 10, at St. Luke's Magic Valley.
"It was enough time to prepare, to find a dress and for Jacob to find slacks," Tristan said. "That's when St. Luke's stepped in and did a whole lot for us.
"We didn't even think about the little detail things," she said. "We were thinking those things aren't important right now, but it really added to our ceremony and made it really special for my dad."
Even more special for Tristan: Her father was able to escort her down the aisle, in a wheelchair, with her brother, Bobby, pushing him.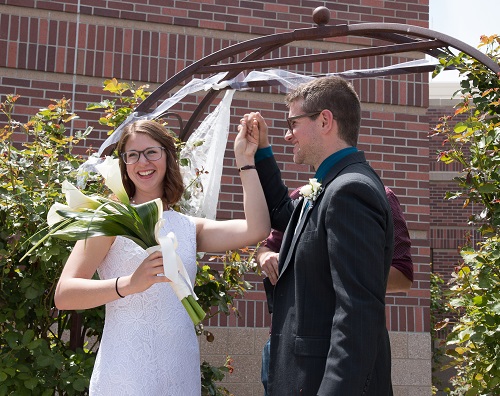 Tristan picked the rose garden as her ceremony venue by accident. She came to the hospital after hours for a visit and while attempting to find her way inside, walked through the rose garden in front of the hospital.
"I was thinking it would be a huge blessing to get him outside to the rose garden and to get him into the sun. My dad at that point hadn't been outside in over a week," she said.
With that unintentional trip through the rose garden, the venue was decided.
Making the moment memorable for the family was the pleasure of St. Luke's staff. The first order of business: to obtain physician's orders for Bob to be able to leave his room in the ICU.
"We were able to get physician orders to allow the bride's father to leave the building," said Curt Egbert, ICU director for St. Luke's Magic Valley. "We attached remote telemetry monitoring and a nurse accompanied him for the entire wedding and then back to his room when he was ready."
Other staff members joined in to help transform the garden into a wedding venue.
"Working here I like to be prepared for anything," said Natalie Giardina, St. Luke's Food and Nutrition Services supervisor for catering services. "I knew I had tulle, ribbons, lace and even a runner in my prep room. We weaved the tulle through all rose garden arches. I ran up to gift shop purchased a large floral arrangement and pulled it apart to make several mini arrangements so I could line the pathway. Our sous chef and team went to work on assorted appetizer displays for a mini reception."
St. Luke's team members decorated the ceremony space with handmade bouquets and flower arrangements for the bridal party, a white fabric runner for the aisle and a refreshment table. All of this was done within hours of being notified that the couple would like to get married on hospital grounds.
"We try to see the whole picture with our patients," said Egbert. "Every patient has different needs, and we as an ICU team do our very best to try to meet those needs to best of our ability.
"These events bring much satisfaction for all of us and add a new dimension to our profession as nurses. It brings us joy knowing that we have brought joy to someone who is otherwise suffering."
It was more than a joy for Tristan. She said the wedding was "perfect."
"I wouldn't change anything," she said. "It was stress-free."
With Tristan and Jacob's family members and a few close friends present, the couple swapped promises in a location that they hadn't necessarily dreamed of, but with someone by their side that wouldn't have been there otherwise.
At this point, Tristan said her dad is "doing way better compared to before.
"He got his humor back, and he is super funny."
For Tristan, having her dad at the ceremony was a blessing.
"I am so grateful for the opportunity," she said. "He was able to share in the moment with us. I just thought it was above and beyond.
"It was special for my dad."