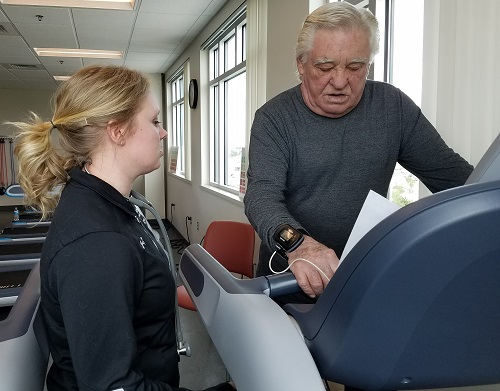 People with peripheral artery disease (PAD) can get caught in a vicious cycle. Walking can be painful when narrowed arteries reduce blood flow in the legs. That pain makes people reluctant to exercise, yet exercise can help improve stamina and reduce pain.
The disease is marked by a narrowing (or blockage) of arteries caused by a buildup of plaque. It restricts blood flow to the arms and legs, and potentially puts people who have this disease at a greater risk of stroke, heart attack or limb loss.
That's why patients are benefitting from a new supervised exercise therapy program for people with PAD.
Michael Stayner joined the program at the recommendation of his physician, Dr. Brian Matteson. Stayner enjoys golfing and staying active, but leg pain prevents him from walking long distances and he needs to ride in a cart for his weekly golf game. Stayner joined the program as a possible alternative to surgery, and four weeks into the 12-week program, he is seeing a difference.
When Stayner began the program he would walk on a treadmill without any incline. Four weeks later he was walking at a 3 percent incline and already noticing improvement in his stamina.
"I was having a lot harder time walking before," he said. "The pain would come and I would have to rest."
Throughout the program participants are under the close supervision of a health care team, including an exercise physiologist, to gauge changes in vital signs and progress and to ensure they are exercising at a safe level. All participants begin with a 6-minute walk test alongside an exercise physiologist. That walk test sets a benchmark that is referred to throughout the patient's 12 weeks in the program. The idea is to measure how far and how long patients can walk without pain, with the goal of increasing the distance walked within that time. The walk test is performed again at the end of the program to measure overall progress.
"It's really a systematic progression for their exercise," said Kate Heckendorn, an exercise physiologist for St. Luke's Department of Lifestyle Medicine. "We're helping them create a habit of exercise and placing them on an appropriate exercise prescription."
The program is based on a similar program at St. Luke's Department of Lifestyle Medicine, where patients can participate in supervised exercise therapy to improve symptoms caused by conditions such as heart disease or COPD.
Neil Melvin, clinical supervisor and exercise physiologist for St. Luke's Department of Lifestyle Medicine, believes the PAD program will eventually expand the same way the cardiac and pulmonary rehabilitation program has grown. Since Melvin joined St. Luke's in 2010, the cardiac and pulmonary rehabilitation program has gone from 100 patient visits each month to 5,000 patient visits each month.
The programs have some common threads. Exercise is proven to decrease symptoms for patients with heart disease, pulmonary disease or PAD. In some cases it can reverse the course of the disease and take the place of other treatments, such as surgery. Many patients who are candidates for these programs are already a higher risk for additional problems or complications.
For most patients, exercise therapy saves money in the long run because it helps them avoid the costs that come with advanced treatment and other complications from their disease.
Participants are receiving education about lifestyle modifications as part of the program and learn how healthy stress management, maintaining activity, improved sleep, tobacco avoidance and eating a whole food, plant-based diet can improve overall health. These changes enable patients to maintain a healthy walking routine with less pain and improve quality of life while reducing the risk of cardiovascular events such as a heart attack or stroke.
"Even if patients have vascular surgery the issues can return without mitigating these lifestyle choices," said Chaunce Dolan, registered nurse, St. Luke's Heart Health and Rehabilitation. "It gets to the heart of our message to influence lifestyle behavior."