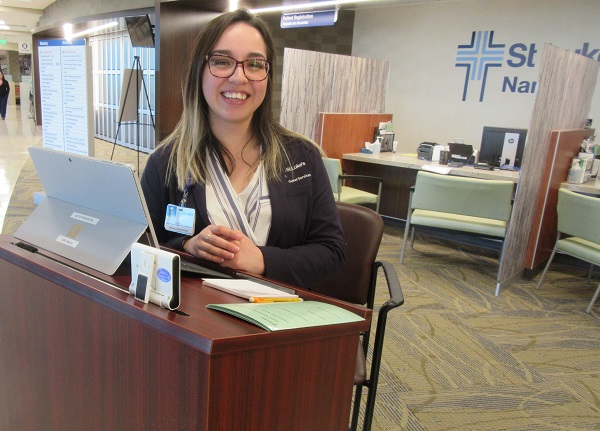 When a patient enters St. Luke's Nampa to check in for surgery, the first person they are likely to see is Maria Zavala.
Zavala is a bilingual guest services specialist who greets patients with a big smile and a mobile tablet.
Dressed in a blue coat and stationed by the front door, Zavala welcomes patients, answers questions and guides people to their appointments every weekday from 6 a.m. to 2:30 p.m.
The blue coat program, launched in early summer 2017, was created to help patients feel comfortable and cared for the moment they walk through the doors. The program has expanded from St. Luke's hospitals in Boise and Meridian to Nampa.
"Many patients are anxious and worried," Zavala said. "A lot of them are sick. I am always putting on a smile. It helps them feel welcome."
Zavala has a natural empathy for many of the Canyon County patients she meets on the job. A resident of Nampa, Zavala graduated from Caldwell High School. At age 14, she started working in the fields, picking fruit, and then spent summers pulling tassels from corn. She has worked in food service, manufacturing and the graveyard shift at Home Depot. Born in Mexico, she is proud to have become a U.S. citizen earlier this year.
Since joining St. Luke's in November, Zavala has discovered a passion for interacting with the public.
"Working here, I found that I am really good at helping people and relieving them of their fears," she said.
"Maria is providing a concierge-type experience to our patients and they love that personal touch," said Cheryl Hanson, supervisor of patient access at St. Luke's Nampa. "She makes the initial contact at the door, helps guide patients to registration, the lab or even the cafeteria. Maria is able to answer questions and even accompanies our patients to their appointments."
The program helps achieve Tonia Ferguson's goals of interaction, kindness and compassion. Ferguson, the senior director of patient access, intends to expand the blue coat program while also rolling out the new self-service technology across the health system.
In the Magic Valley, touch-screen kiosks have been operating since March in a new medical office building. More kiosks are expected to be available this summer in some Treasure Valley locations.
Patients can use the kiosks to complete a variety of tasks such as checking in or checking out for appointments, reviewing registration information and making payments on account balances. The kiosks also have an option that allows patients to check in several days before an appointment through their St. Luke's myChart accounts using a computer or smartphone.
The self-service kiosks have been well received in the Magic Valley, said Janell Tilley, manager of patient access. The technology has helped to reduce check-in times and expedite registration, and hundreds of patients have accessed the "welcome" platform.
"Welcome helps patients take aspects of their care into their own hands," Tilley said.
While research shows kiosks work well in ambulatory clinic settings, St. Luke's is working on an implementation plan for the hospitals. Adam Vardaman, director of tertiary hospital registration, is leading a team analyzing how to best utilize the kiosks.
Ferguson is also exploring mobile registration, with a patient access specialist facilitating registration using a mobile tablet. Patients would be able to check in days in advance and receive an electronic code that can be scanned and checked in.
Combining technology with the blue coat program enables St. Luke's to tailor services to benefit patients, Ferguson said. Spanish language skills, for example, are essential in an area where more than 25 percent of the population is Hispanic.
Zavala is pleased to be able to help.
"If I did not speak Spanish, some patients would be more uncomfortable and lost," she said.
Her personal interaction with patients often results in warm moments of connection.
"Sometimes I have good conversations, especially with the older people," she said. "They have a lot of good stories, and sometimes they have advice. They will tell you stories from their past about when they were younger."
Ultimately, Zavala's top priority is to make patients feel welcome.
"I hope I made their day better," she said.