Mountain Home Students Learn About Healthy Lifestyle Choices
By Chereen Langrill, News and Community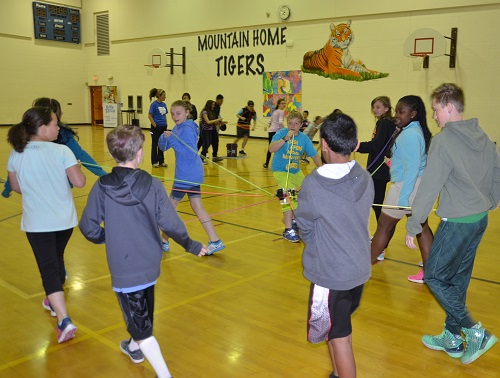 The magic of movement. The link between healthy eating and portion control. A demonstration that shows what happens when you don't wash your hands properly.
All of these topics were part of a day-long event called "Extreme Challenge," which featured interactive presentations for approximately 300 fifth grade students at Hacker Middle School in Mountain Home.
St. Luke's Elmore sponsors the event each year to encourage students to discover healthy lifestyle choices. The outreach focuses on fifth grade because they are at a point when decisions they make will impact their health and well-being, said Christine Hastings, St. Luke's Elmore foundation assistant and volunteer services coordinator.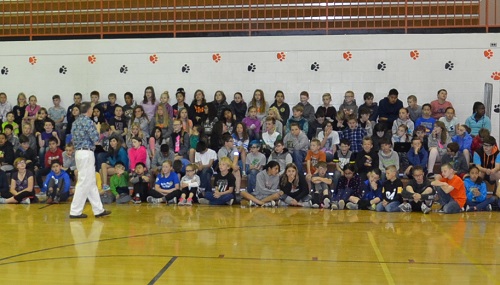 Dr. Scott Baldridge talks with fifth grade students at Hacker Middle School.
"Fifth grade is an age when students are going to be faced with decisions, and is a time when they are old enough to understand these concepts and young enough that they are still willing to learn and implement lifestyle changes," Hastings said.
Students rotated from one presentation to the next, hearing 14 minutes on each topic involving health, wellness and safety.
The event kicked off with opening remarks from Dr. Scott Baldridge, a family medicine physician from St. Luke's Clinic – Family Medicine in Mountain Home, who talked about the need for physical, mental, emotional, financial and spiritual health.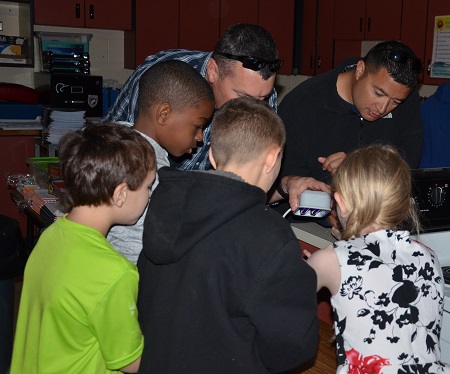 Presenters showed students an innovative, creative way to look at familiar topics. For example, a presentation from Treasure Valley Hospice showed students how certain abilities become limited as people age. Students had to wear gloves while trying to button shirts and tie shoe laces, wear plastic wrapped goggles and cotton balls in their ears and use canes and walkers to move around the room.
Some other examples of presentations:
The amount of sugar in popular beverages and healthy alternatives
The dangers of tobacco use
How to have a healthy self-image
Safety tips involving the Internet, bicycling, fire, guns and railroad crossings.