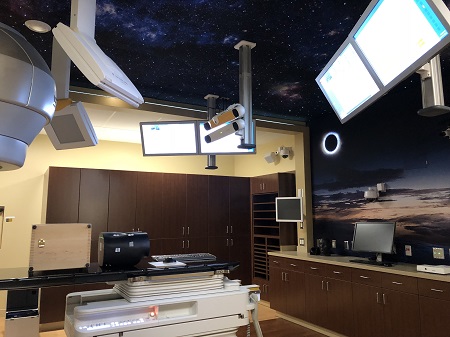 A new linear accelerator, which utilizes 3-D technology to pinpoint the exact location of a tumor, is part of a treatment suite upgrade at St. Luke's Mountain States Tumor Institute (MSTI) in Twin Falls.
The sophisticated equipment provides state-of-the-art treatment for cancer patients.
"The linear accelerator treats cancer by shooting photons and electrons at the target area that a physician has determined needs treatment," said Brady Taylor, St. Luke's MSTI chief medical physicist. "It is high energy and very precise."
Installation of the linear accelerator began in June 2017. One of the other linear accelerators at MSTI in Twin Falls was removed to make room for the new machine. Taylor said it took about a month to install the new accelerator. Intensive testing then was required to ensure the machine's accuracy and safety. It was ready for patients to use in late February.
Along with new equipment, the room now features a celestial galaxy ceiling that can be seen by patients during treatment.
The radiation treatment suite will be dedicated to Dr. Charles Smith, who passed away in July 2017 and was an avid enthusiast of astronomy and physics.
Dr. Smith is considered a pioneer in modern cancer care. He began working at St. Luke's in 1972 and was instrumental in the development of Mountain States Tumor Institute. In his 45 years as a physician, he saw countless numbers of patients in various clinics throughout the state and helped make cancer treatment a more bearable, hopeful and positive experience.
"Charlie dedicated his life to MSTI. (It) was his life," said Dr. Dan Zuckerman, executive medical director of St. Luke's Mountain States Tumor Institute. "His patients loved him; his colleagues loved him."
St. Luke's Magic Valley Health Foundation has established the Dr. Charles Smith Memorial Fund in Dr. Smith's memory. Learn more online.
A ribbon cutting for the new linear accelerator and radiation treatment suite is scheduled for 4 p.m. Wednesday, March 14. An open house also begins at 4 p.m. and continues until 5:30 p.m. at St. Luke's MSTI in Twin Falls (725 Pole Line Road West).