Jennifer Barrett began competitive barrel racing at the age of 6.
Decades later, she is still following her passion.
"I'm an adrenaline junkie and I am all about goals," Barrett said. "I am a very goal-oriented person. My mom barrel raced and still competes, so I have done it my whole life."
At the beginning of April, Barrett is heading to Florida for the RAM National Circuit Finals Rodeo.
When she's not competing, Barrett is a radiology technologist at St. Luke's Magic Valley. Her career has allowed her the flexibility to follow her dreams as a professional barrel racer.
"I grew up on a dairy farm," Barrett said. "I didn't really know what I wanted to do, but I knew that I wanted to make a good living for myself to get the horse that I wanted.
"I didn't really want to spend 10, 20 or 30 years paying off student loans, and my mom saw an ad in the newspaper for the X-ray program in New York. She said there are always going to be sick people and there will always be things in the medical field to do."
Barrett graduated from X-ray school in New York at the age of 20. She takes pride in the fact that she had her own apartment and truck and was following her dreams.
Her family and that of her husband were very involved in rodeo; Barrett's husband was a rough stock rider and more recently has become a rodeo clown.
And while they thoroughly enjoyed living in New York, in 2015, they decided to move to Buhl.
"We both had met all of the goals of the demographic that we lived in and we knew that if you want to get better, you go where there is better."
For Barrett, moving to Idaho was in keeping with her interests.
"We came out here for a vacation for seven days without our animals and we looked around and really liked the area," Barrett said. "We opened up the calendar and said, 'Let's go on Columbus Day.'
"We packed up everything that we had and moved across the country. We didn't know anyone here and I had quit my job. We said we would figure it out when we got there."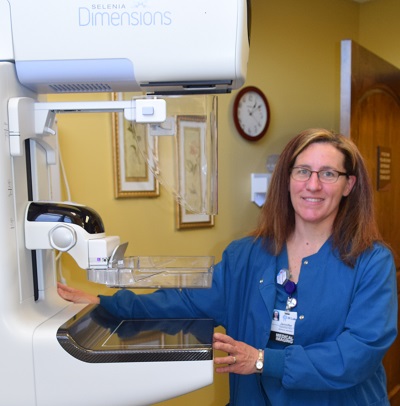 That was October of 2015. Barrett began working at St. Luke's the following February.
Barrett is thankful for colleagues who are well aware of her passion.
"Everyone is flexible and we all have our thing that we do outside of work," Barrett said. "If we can help each other by picking up shifts for each other, it makes your relationship with your co-workers stronger. They are my family. Without having family here, they are my family."
Her family also includes her husband, Dusty, and her horses, including her prized horse, Larry.
"Making the NFR (the final rodeo event of the PRCA season) is a dream and a goal. This horse is a part of our family.
"The big joke at my house is that Larry is my husband's full-time job," Barrett said. "He checks on him 10 times a day and makes sure that he is happy. He builds my saddles. He is in charge of Larry's health and well-being and I am the jockey."
Barrett's future goals include earning her spot for Circuit Finals in 2018 and to be ranked in the top 30 in world standings.
Her advice for others looking to fulfill their dreams? "Don't take no for an answer.
"There are so many opportunities out there, and people are too afraid to take advantage of it," she said. "The greatest things are on the other side of fear."