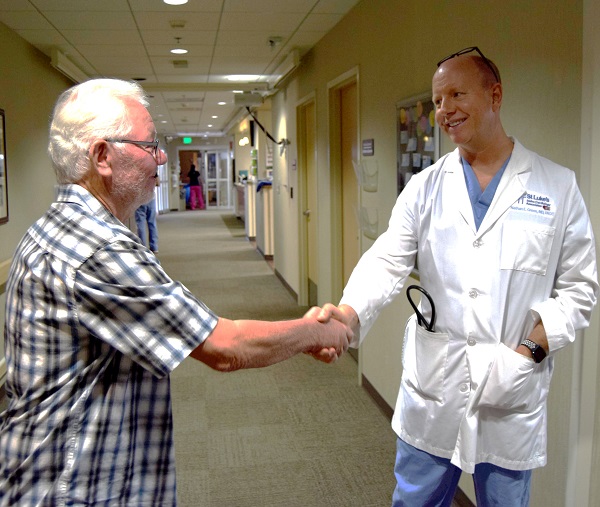 It's rare for hospital physicians, nurses and staff to see patients after they're discharged, but one former patient made it a point to visit St. Luke's Meridian Medical Center. John Durbin wanted to thank the team for saving his life during cardiac arrest five months before, and try to recapture memories he lost during that time.
"I remember this," said Durbin during a June 15 visit to St. Luke's Meridian. He was standing in front of a photograph hanging in the telemetry unit outside the room where he recovered for several days and had a flash of familiarity. "Snap a photo of that, would you?" he asked his wife.
"It was awful, but it was an experience that really changes your life for the good," said Sherri Durbin.
She explained that the visit was John's idea and a potential final step to heal from his January 2, 2018 STEMI (ST-Elevation Myocardial Infarction). "I've told the story so many times that he said, I need to go there and see the people and feel this environment. Maybe it will jog my memory."
While visiting family in Caldwell, the man from Oregon suddenly went into cardiac arrest. Sherri said John had no symptoms to warn him; no shortness of breath or pain. He simply collapsed. She immediately knelt down and started CPR while John's brother called 9-1-1. Seven minutes later, Canyon County Paramedics were there and used a defibrillator to shock John several times, but he had no pulse.
"A STEMI is usually a blockage that's not obstructed yet, but something makes it become unstable and it goes from 40, 50, 60 or to a 100 percent blockage quickly," explained St. Luke's cardiologist Dr. Nathan Green. "That sudden change is what usually causes people to have that sudden chest pain. Frequently, with where John's was, the heart doesn't like losing that oxygen, so suddenly you'll develop an abnormal heart rhythm as a result. Frequently, it's a cardiac arrest."
John was rushed to the closest hospital, West Valley Medical Center, but the hospital is not set-up with the infrastructure and equipment to treat critically ill heart attack patients like John. Rural hospitals around the state have protocols in place to call St. Luke's Treasure Valley hospitals, and know they will accept these patients, no matter what because they are designated as STEMI Referring or Receiving Centers by the Idaho Time Sensitive Emergency System.
In John's case, paramedics continued on to St. Luke's Meridian, where STEMI procedures have the team in position to greet him at the door for an emergency angioplasty.
"That morning he went directly from the back of the ambulance straight to the cath lab where we opened up that artery and put in something called a cooling catheter, which cools their core body temperature down to essentially preserve their brain function," said Dr. Green.
"Dr. Green told us John's situation was dire, that he had a slim chance of recovery, and if he did, he would have brain damage."
Dr. Green says 30 percent of people who have a big heart attack present with cardiac arrest. While one of the more rare forms of a heart attack, STEMIs still happen approximately 700,000 times a year in the U.S. Unlike John, Dr. Green says the majority don't survive.
"Every time I turned around, these people were absolutely phenomenal," said Sherri. "They gave me hope, but they also didn't give me so much hope that I would be shocked if it went the other way, and I really appreciated that."
John remained unconscious for five days. He spent eight days in the Meridian ICU and another three in telemetry before being well enough to return home to Oregon.
Five months later, the only thing John can't remember is his time at St. Luke's, and the few weeks leading up and after the heart attack. He hoped another trip to Idaho to see St. Luke's Meridian and meet Dr. Green would trigger those memories.
Standing before him as a healthy man, John shared that his heart is doing great, he's completed cardiac rehab, and he and Sherri completely transformed their lifestyles and now mainly eat a plant-based diet.
"I'm back to doing everything I did before it happened minus the 50 pounds, so I'm sure it must be easier." Laughed John.
"Your heart appreciates that," said Dr. Green.
Dr. Green said he and the ICU team also appreciated the Durbin's visit because it's not often emergency providers get the end of the story, especially when it's such a happy ending like this.
"It reaffirms what we do. This is why I went into medicine," said Dr. Green. "To know where they were, and for us to be able to see them well, it just completes the circle for us, too."
St. Luke's Meridian and Boise recognized for excellence in cardiovascular care
St. Luke's hospitals in Boise and Meridian recently received the Mission: Lifeline® Gold Plus Receiving Quality Achievement Award for implementing specific quality improvement measures outlined by the American Heart Association for the treatment of patients who suffer severe heart attacks.
Heart programs at St. Luke's Meridian and Boise also received the 2018 Watson (Truven) Health Top 50 Cardiovascular Hospital Award for the 10th consecutive year. In addition to this distinction, St. Luke's Heart is one of just seven organizations to receive the honor 12 times or more since the award was created in 1999.
In the past 10 years the program has experienced significant growth, going from 10 cardiologists and two advanced practice providers to 19 cardiologists 17 advanced practice providers.