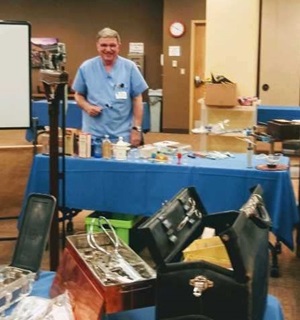 The McClusky family has a legacy of medical care in the Magic Valley.
Dr. David McClusky's practice at St. Luke's Magic Valley closed as of June 1. But, he is not officially retiring. Dr. McClusky plans to stay involved with St. Luke's.
Dr. McClusky has been a general surgeon at St. Luke's Magic Valley. His grandfather, Albert, was one of the first physicians to bring medical care to serve the people of the Magic Valley when he set up his practice in Buhl in 1908. At that time, Buhl was 2 years old and Twin Falls was 4.
Albert became the first chief of staff of the hospital when it opened in 1918 and practiced until his death in 1928. He was born in Pennsylvania, educated at the University of Colorado and went to a medical school in Missouri.
"When he came out here, he was a country doctor," Dr. McClusky said. "Back in those days, that's what they all did. They were country doctors. They did everything."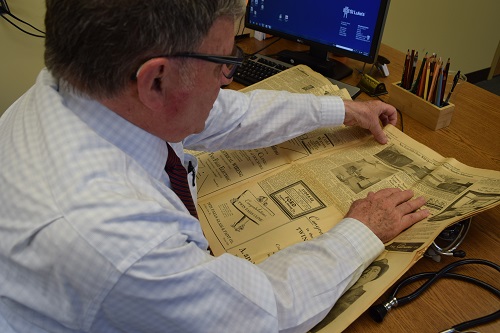 Dr. McClusky glances at a 1947 newspaper article highlighting the Twin Falls Clinic.
At one point, Albert went to Colorado for treatment of a swollen knee. While he was there, he contracted typhoid fever and the medical team had to amputate his left leg above the knee. He was left with a wooden leg.
"The great thing about being here is when I first started, I not only picked up my father's patients, but my grandfather's, too," said Dr. McClusky. "Most of the ones that knew my grandfather, he either delivered them or took care of them as a little child.
"I remember one of my patients who said, 'I remember your grandfather very well because I came in to see him one day and I cut my finger,'" he said. And my grandfather was sewing up the finger. And I was screaming and crying and I wasn't very old.
"I was kind of little and I remember he took a thumb tack and he said, 'If you don't be quiet, I'm going to do this to you,' and he stuck the thumbtack in his (wooden) leg, and so I said, 'If he is going to do that, I better be careful.'"
"It was nice to be able to have that tie between my grandfather and this young man who became my patient for many years."
During Albert's time practicing, medicine was much different. In fact, there weren't any true antibiotics.
"Penicillin was just invented the year that my grandfather died, and it wasn't until 1940 that penicillin was really used and in World War II it was used," said Dr. McClusky.
"They still didn't have gloves that they wore in surgery or anything."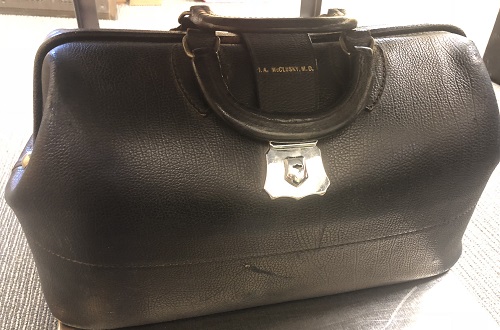 Albert's dream was to develop a camp for children to learn about health and wellness. Although he passed away before that camp was established, his wife completed his dream with "McClusky Park."
"Children who were poor, didn't exercise well and didn't know much about health were brought to the camp," said Dr. McClusky. "For the month they were there at the camp, they were given good meals, they swam in the swimming pool in the Buhl Park and learned how to exercise and be healthy.
"The success of the camp came from weighing the children when they came in and when they left, and seeing how many pounds they put on during the month they were there."
In 1919, Dr. McClusky's grandparents adopted four children from the orphanage in Boise. Dr. McClusky's father, David, was one of them.
David was born on the south fork of the Salmon River. He was one of 11 children.
Dr. McClusky's father started his practice in Buhl in 1942 and then went overseas during World War II. Upon his return, he was one of the four founders of the Twin Falls Clinic and Hospital.
"I had the pleasure of going on house calls with my dad," said Dr. McClusky. "He would come home and pick me up and then we would go to the house calls. I never knew why he was going or who he was taking care of, but I remember we went to a lot of farms and I would get to play with the animals. Every night, he would pick me up and he had his doctor's bag.
"I think that I always wanted to be a doctor, but I think that helped more than anything. It was a fun time to be with my dad and to participate with him, and that is very special."
Dr. David McClusky II began his practice in 1982 at Twin Falls Clinic and Hospital, which merged with Magic Valley Regional Medical Center in 2001 and subsequently became St. Luke's Magic Valley.
"I love every minute of it," he said. "I come to work because I love what I do. I feel sorry because most people can't say that."
Dr. McClusky and his wife, Sue Louise, have known each other since second grade and dated for 11 years before getting married. The couple has been happily married for 50 years and has two sons. David III is also a general surgeon and provides medical care with St. Luke's in Wood River. This creates a four-generation legacy of medical care in the Magic Valley. His other son is a physician's assistant in El Paso, Texas.
"It's been fun to see them follow in your footsteps and enjoy health care," he said.
Dr. McClusky is credited with the start of the first hospice in Twin Falls, the Wellness Tree Clinic in Twin Falls and Camp Rainbow Gold. He has been a Twin Falls High School team physician for more than 30 years.
For Dr. McClusky, the legacy entails roles outside the hospital setting.
"Your community is only as healthy as the people that live in it," he said. "If you can keep your community healthy, then you have a healthy community. That's our job as health care providers. That's our responsibility."
Watch the video