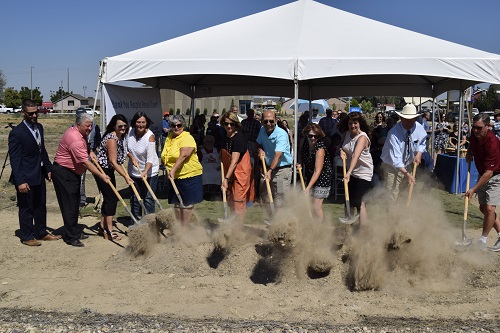 St. Luke's and members of the Western Treasure Valley community gathered Wednesday afternoon to celebrate a major milestone and future benefit for cancer patients in rural Western Idaho and Eastern Oregon. After many years and countless community fundraisers, St. Luke's Mountain States Tumor Institute (MSTI) is finally breaking ground on the new Respite House in Fruitland, Idaho.
The event was attended by about 100 current and former patients, community members, elected officials and employees.
Hundreds of cancer patients travel great distances each year to get care and treatment in Fruitland. Some come from communities as far away as Whitebird, Burns, Ore., and Richland, Wash.
"Patients are often too ill or tired from chemotherapy or radiation to travel back and forth between their homes and the clinic," said Dr. Sarah Bolender, MSTI Fruitland medical director. "They need an affordable and welcoming place to rest and recover so they don't have to worry about winter roads or driving when they feel sick."
Respite House will be that welcoming home-away-from-home for cancer patients, along with loved ones helping to care for them. Located about one block from the St. Luke's Fruitland Medical Complex, the $1.6 million facility will offer a place to rest, recover and help to ease the burden of travel to and from cancer treatments.
"There is a lot to cancer that is more than the diagnosis," Dr. Bolender said at the ceremony. "We want to treat the whole patient."
The design includes a one-story, 5,235-square-foot structure. It will have private wheelchair-accessible bedrooms with an adjoining bathroom, along with a living room, central kitchen and dining room, library of books and family videos, RV parking area, picnic tables, a grill and outdoor patio furniture.
"Anyone you talk to who has had treatment at MSTI Fruitland will say they wished there had been something like that for them," said Shellie Colvard, the President of Surviving Hearts.
Colvard understands that need. After her breast cancer diagnosis in 2008, she had to travel almost one-hour each way from Midvale for her treatment. That experience inspired the Colvard family to start Surviving Hearts to support other cancer patients with the same struggle, and help raise money for the new Respite House.
"The long distances traveled to treatment are a burden. The house offers a better option, not just for the travel but it will help with the recovery and mental stress that comes with cancer," Colvard said.
Colvard spoke at Wednesday's event and praised the MSTI staff, including Dr. Bolender and the patient financial advocates.
She said that she has learned that "giving is a healing thing."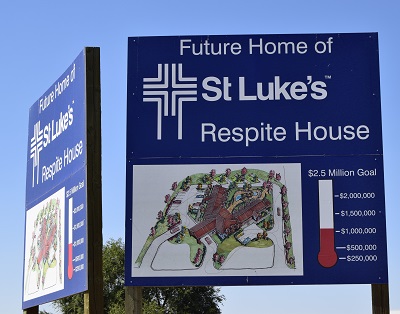 Local groups like Surviving Hearts are to thank for bringing St. Luke's MSTI to this point in the project. Community members and organizations teamed up and worked over the last six years to raise $1.129 million to launch construction.
"More than 350 people, groups, companies and foundations came together and made the St. Luke's Respite House a priority," said Mark Parkinson, administrator for St. Luke's MSTI. "From bowling to bunco to barbeques, this truly has been a grassroots campaign. We could not have done it without this community, and the leadership of our Fruitland Community Council."
The St. Luke's Respite House is expected to be complete and open in spring 2019.