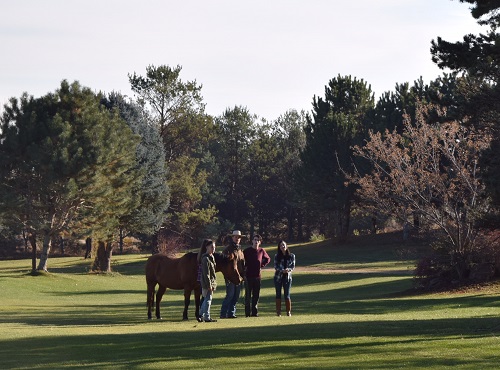 The Idaho Youth Ranch has transformed the lives and outlooks of troubled youth since the 1950s. For youth who have experienced homelessness, domestic violence, substance abuse, self-harm and more, the nonprofit organization and its therapy programs and services have acted as a safety net of help—and hope.
With the significant rise in population across the Treasure Valley and state, the Idaho Youth Ranch has experienced an increased demand for services for struggling youth. This has motivated the organization to find new ways to help young people today.
"Over the last three years, our board of directors and others have been working on a plan to reinvent what services look like now in the 21st century for kids and families," said Tracy Rowe, director of donor engagement at the Idaho Youth Ranch.
That plan includes a strong partnership with St. Luke's Health System. The Idaho Youth Ranch is in the middle of expanding its equine assisted psychotherapy program in Canyon County, supported in part by a St. Luke's Community Health Improvement Fund grant.
The Idaho Youth Ranch is currently building indoor and outdoor riding arenas, as well as facilities that will house various therapy animals, including horses. Completion is expected this fall.
"Because of St. Luke's health focus, the organization is all about building healthier kids and families," Rowe said. "Partnering with that kind of an organization really sends a strong message to other supporters and potential clients that we are about creating healthy kids and helping them overcome the trauma in their lives so they can move forward and create a productive life."
St. Luke's Nampa site administrator Ed Castledine applauds the Idaho Youth Ranch for its responsiveness to help youth in need.
"We are thrilled to partner with the Idaho Youth Ranch it its effort to expand equine therapy services in Canyon County and the western Treasure Valley," said Castledine, an avid horseman himself.
In 2015, the Idaho Youth Ranch purchased a 250-acre ranch near Middleton, once owned by Donald Simplot. Formerly a plant nursery, the property features trees and rolling hills—its unique, undulating nature provides contrast to the surrounding agriculture land.
"It's just an unbelievable, beautiful, peaceful place," Rowe said, a place perfect for troubled youth to access an innovative equine therapy. The new facilities will serve youth after school, on weekends and in the summers.
"Equine assisted psychotherapy has proven to be really, really effective with kids in particular, but also their families because it is very interactive," Rowe said. "It just works in a different way than talk therapy."
This expansion also helps the Idaho Youth Ranch return to its roots. From 1957-2015, the Idaho Youth Ranch operated a ranch outside of Rupert, which provided vital, youth-focused therapeutic services and programs.
The Idaho Youth Ranch served an estimated 30,000 youth and families over that 58-year period. The organization's board made the decision to relocate the ranch closer to the Treasure Valley, enhancing proximity to a larger population base and increasing access for more youth.
"We could serve more kids and families; keep those kids closer to their families; and engage the families in the work we were doing, so we didn't just work with kids and send them home to struggling families," Rowe said. "We are positioning the program in Canyon County to work with a lot more families through traditional and equine assisted psychotherapy."
The Idaho Youth Ranch was one of nearly 90 organizations in the Treasure Valley to receive a Community Health Improvement Fund grant from St. Luke's this year.
"Whenever you are starting a new program, those early adopters who can envision the good that can be done, who say, 'Yes, we want to be a part of this, this aligns with our priorities,' those are critical stakeholders because they get us open and off the ground, so we can continue to build support, expand our stakeholder base, demonstrate the good that we are doing, and we can get some momentum and increase our support base," Rowe said.
"The impact of this initial St. Luke's donation enables us to provide life-changing therapies to 150 additional individuals in our first year and is inspiring others to join in their support. That's one way St. Luke's is extremely beneficial."