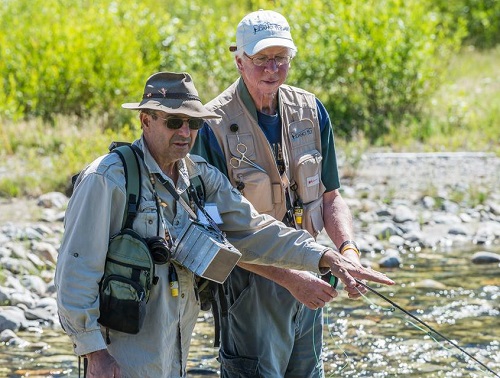 Travis Swartz, the co-coordinator of Idaho's chapter of Reel Recovery, became involved with the fly-fishing program when one of his best friends was battling cancer.
The mission of Reel Recovery is two-fold: To help men in all stages of cancer treatment or recovery to discover the healing powers of fly-fishing while also providing an environment for those men to share their experiences and stories with each other.
When Swartz, a fly-fisherman himself, went on his first retreat with Reel Recovery, he was prepared to see the healing power that fly-fishing had on the men who were participating. What he didn't expect was the life-altering discussions he witnessed.
"The fishing component I expected," Swartz said. "I expected them to say, 'While I was out fishing I didn't think about my cancer.'"
But the second component of the Reel Recovery retreat is what had the most profound impact on Swartz.
"I think the biggest surprise to me was the conversations and watching these guys slowly become more open with their experience and more comfortable with being emotional and being more comfortable just talking about the cancer," Swartz said. "It's a pretty powerful thing to watch."
Reel Recovery is one of a few programs centered around fly-fishing that earned grants from the St. Luke's Community Health Improvement Fund (CHIF). Idaho 2 Fly also hosts retreats for men battling cancer. Project Healing Waters, meanwhile, uses fly-fishing to help disabled military service personnel and disabled veterans.
"It helps, because we don't have big-time funding," said Richard Jones, the program leader of Project Healing Waters.
Stan Golub, the executive director of Reel Recovery, said his program has conducted almost 300 retreats in 19 states and New Zealand since it was founded in 2003. Each state relies on local funding, and Golub said St. Luke's has been instrumental in Reel Recovery's success in Idaho.
"St. Luke's support has been critical for us to continue our program (in Idaho)," Golub said. "We do raise money from other sources, but St. Luke's has been a consistent supporter since 2010, and that has allowed us to sustain the program."
Golub said that St. Luke's – through the CHIF and other avenues -- has donated more than $30,000 to Reel Recovery since 2010.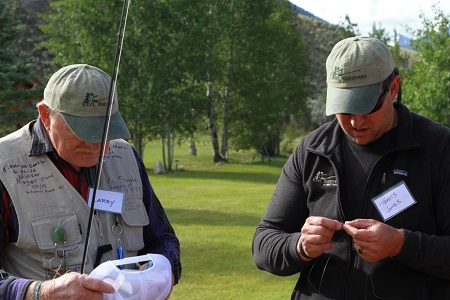 Larry Andrews, left, pictured with fishing guide Travis Jones, attended a Reel Recovery retreat at Wild Horse Creek Ranch in Mackay after being treated for skin cancer.
That money has helped provide retreats for almost 150 Idaho men, including Larry Andrews of Filer, who attended a Reel Recovery retreat at Wild Horse Creek Ranch in Mackay after being treated for skin cancer.
Andrews said he saw firsthand how the men on the retreats open up after hearing each other's experiences with cancer.
"We were all sitting in chairs, and there was a person who didn't feel comfortable talking," Andrews said. "There were a couple that did that. But once we went all the way around the room, they didn't mind talking anymore, because some of their experiences were similar to ours."
Andrews' wife, LaDonna, said it didn't take long for her to realize the retreat had a profound effect on her husband.
"He didn't really want to go up there," LaDonna said. "He's kind of quiet. But when he came home he was a different person."
What they're saying about the fly-fishing programs
"I don't have a lot of people that I rub shoulders with on a day-to-day basis who are dealing with cancer, so it was really great. The sessions brought out stories from everyone. Everyone kind of got it." – Reggie Epp, prostate cancer survivor who attended an Idaho 2 Fly retreat last summer
"You have all these different guys in different stages of their diagnoses and their treatment. But the thing is, it's not easy for a lot of guys to sit around in a circle and … talk about their feelings. But it's funny – these retreats last for about two-and-a-half days – if you want to build a community of guys who didn't know each other when they first showed up, this is certainly a way to do it. I would say its transformative, but that sounds a little cliché. But it does change peoples' lives." – Ken Miller, oral cancer survivor who has attended a retreat as a participant and has returned three times as a volunteer
"We just get them out on the water, and being around water is one of the most peaceful things you can do. One of the things we have encountered … with a significant portion of these people is that they come home and they become hermits. So, we get them out and they're with other vets that have gone through some similar experiences. They relate to each other, and they meet people who care about them. We've had some pretty significant changes in people." – Richard Jones, Army veteran and Boise program leader for Project Healing Waters
"There's no advice-giving, and there's no right or wrong way to deal with cancer. We just open the arena for them to share their stories without judgment. We started in 2003, and it has changed lives – not only the 3,000 men who have attended the retreats, but also the 700 or 800 men who have volunteered over the years. I've done it for 15 years and it never gets old. It's always an amazing experience."
– Stan Golub, executive director of Reel Recovery

More information
Phone: (800) 699-4490
Email: [email protected]
Note: Reel Recovery still has a few open spots for its retreat from July 20-July 22 at Wild Horse Creek Ranch in Mackay.
Phone: (208) 462-0402
Email: [email protected]
Project Healing Waters Fly Fishing
Note: Project Healing Waters is a national organization, but there is a contact form for Idahoans through the national website.