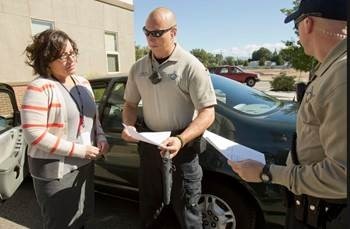 One of the St. Luke's Community Health Improvement Fund's stated priorities is to help improve the prevention, detection and management of mental illness and reduce suicide.
Dawn Rae, a paramedic with Ada County Paramedics, has seen firsthand how the fund improves the community in which she lives and serves. A $40,000 grant awarded by the Community Health Improvement Fund (CHIF) allowed the Psychiatric Emergency Team to expand its hours from 40 to 60 hours a week last March.
Rae said those expanded hours translated directly to people in crises being diverted away from area emergency departments.
"Obviously, taking our hours of availability from eight hours a day to 12 hours a day, it not only expanded the availability for us to perform the emergency room diversions, but it also led to us having more of a connection with law enforcement," Rae said.
The grant also helped further the bond between Ada County Paramedics and the Department of Health and Welfare's Mobile Crisis Unit.
"It was really about coming together and having a little more communication and going out in the field together," said Ellie Merrick, the clinical supervisor of the Mobile Crisis Unit. "So Mobile Crisis can do the psychiatric screening and the treatment planning around that, and then the paramedics can look at how they're doing medically, and we can go from there."
That team effort has been embraced by police officers, Rae said.
"Law enforcement has traditionally been the only response to people in a mental health crisis," Rae said. "The officers we work with are excellent, and they want to do the right thing for people, but we had been sending them out in the field with a hammer for a tool."
Meaning officers' options were limited.
"Now, with us being available, and as we've created this collaborative team for people in crises it certainly has provided people with options of having follow-up from mental health clinicians or being provided with resources beyond what they may have known about," Rae said.
Those options can certainly be more beneficial than sending a person in a mental health crisis to an emergency room – or jail.
"I've gotten a lot of feedback from police officers saying that they feel so much more comfortable about leaving someone at home once they've been able to get feedback from clinicians at Mobile Crisis," Rae said. "And paramedics are able to be there more, too. … It's definitely helped people feel like their mental health crises are being dealt with by the community, and that they're being helped by the community."
And that means the St. Luke's Community Health Fund is achieving a primary goal in promoting community health – while also inspiring community partnerships.
"We're just really grateful that St. Luke's has had the level of trust in what we do and that they supported us as we were setting forth into new territory," Rae said. "We really appreciate it."